In the trailer I put up last night I said I'm open to suggestions for music for Gunpoint, then claimed there'd be a version of that trailer without my voice here on the site. There wasn't! There is now!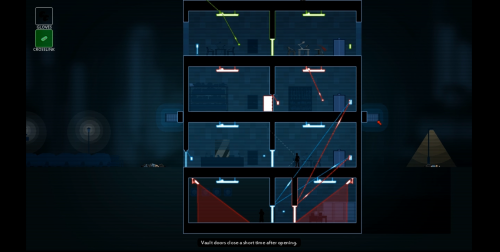 So if you're interested in doing music for it, I'd love it if you could add what you think is appropriate to this version of the trailer.
I'm mostly open-minded about what the music should be like, but here are a few thoughts I have on it:
You're a spy, and it's a stealth game. It needs to be quiet most of the time – possibly silent. I don't think constant music is necessary, certainly nothing too busy or active.

Music can be triggered by in-game events, but obviously you need to know what specifically it should respond to – it can't just be "Action" without a clear idea of what defines that.

Gunpoint's set in the near future, with some silly gadgets, but also tries to be noir-inspired wherever possible. So electronic stuff is cool, and lonely sax is cool, but by no means compulsory.

A light touch is good. I'd rather people not notice the music than notice when it doesn't fit.

I'm personally not wild about chiptunes. I'm open to it, of course, but I've never heard anything chiptuney that feels like a good fit for this style, to me.

The flow of the game will probably go:

Mission: leaping around a building, looking for a way in, avoiding detection.
Mission: Pouncing on a guard or two – sudden bursts of violence that'll usually be contained and go back to quiet sneaking.
Mission: reaching your objective, getting what you want.
Mission: escaping – not usually to a time limit, but there's generally a quick way out.

Dialogue: debrief with a client, they react to your missions, you choose dialogue options.

Menus: buying new gadgets, upgrading gadgets, reading briefings and choosing your next mission.

Dialogue: briefing with a client, you choose dialogue options, ask questions.

Then back to a mission.
If Gunpoint ends up being free, I can't pay you anything. Sweet deal, I know! If we do end up charging for it, and you end up doing the music, you will get a share of it. I should warn, though, that it'll be a very small share – I have to prioritise the stuff the game wouldn't work without. Basically, for God's sake don't do this for the money.