The 48-hour game-making competition Ludum Dare is back on this weekend, and the theme is Escape. This is the 21st compo – I entered the 19th with Scanno Domini, and regretted not entering the 20th.
Gunpoint's at too exciting a stage right now to take time off from it. If I was making a game about Escape this weekend, though, here's what it'd be.
Escape Velocity
You're a small escape pod with a single thruster, jetting around an infinite randomly generated space. Planets of randomly generated size attract you with their gravitational pull. If you land on one, you'll find your thruster isn't powerful enough to let you escape.
You can, however, press down to burrow through the crust of the planet into its gooey core. Your pod automatically sucks up the molten minerals in the centre of the planet to use as fuel. The bigger the planet, the more intensely its fuel burns, and therefore the more powerful your thruster can get if you suck up its whole core. It's just enough power to escape the gravitational pull of a planet this size, so from now on you can escape any planet that isn't bigger than this one without boring to its core.
As soon as you start sucking up a planet's core, though, it becomes unstable and will soon explode. It also gets lighter, reducing its gravitational pull. You have to judge how long you can afford to keep sucking up its core before you need to start escaping. The longer you suck, the more powerful your thruster and the weaker the gravitation pull it has to overcome, but the closer you get to the planet's detonation.
You have to leave the crust through the hole you made on your way in, or take a second to drill a new one. Provided you get outside the fatal radius in time, you can ride the blast wave of the explosion for a speed boost that'll last till you next hit a planet, or thrust in a different direction.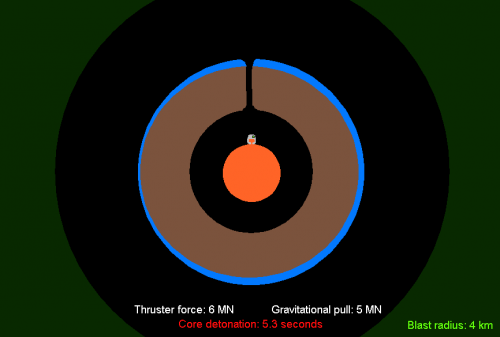 You're trying to get to the galactic core, a direction indicated on-screen, by progressively increasing your thruster power and armour to increase speed and skip more and more planets on the way. You want to get there to suck the whole thing up and use it as fuel to escape spacetime or whatever THE END.