Competition / unpaid labour time! In Gunpoint, you break into buildings by rewiring things to each other. You switch to Crosslink mode, the blue outline view below, and drag connections from one device to another to link them.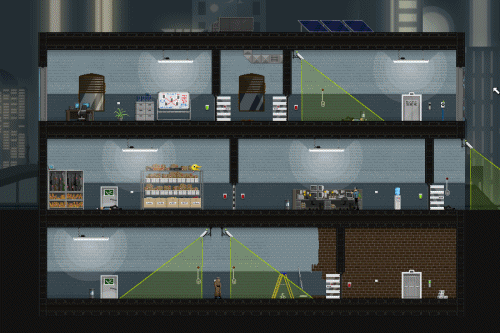 I want a really satisfying, fun, excitingly electronic noise for when you switch into this mode. There's a great web app called BFXR by Dr Petter and the incomparable increpare, for doing stuff like that. You just hit the randomise button a lot, drag some sliders around, and you can 'Copy link' to send it to someone as a URL. Here's a weird one I just made.
Since that's how I was gonna make the Crosslink noise anyway, and it's easy to do, I thought it might be fun to see if you wanna come up with something yourself. Have a play around with BFXR, then when you're happy with it, click Copy Link and send the URL to me – either via e-mail, or as an @GunpointGame reply on Twitter.
The only prize is making Gunpoint slightly better, getting your name in the credits, and sorta feeling like you did something today, if you don't already. To be totally clear: don't send me a link to your sound unless you're happy for me to use it. That would be weird.