I definitely waste more of my time than I'd like. Mostly on Twitter, but also just with this mysterious business of general internetting. I'll sometimes catch myself switching between 7 open browser tabs, each containing something I want or need to do, and doing none of it. And none of the productivity plug-ins or apps I've found do quite what I want, because my requirements are incredibly specific. What I needed was:
Something general. No use tying it to specific websites, or even my browser, since I waste time all over the place.
Something non-enforcing: hard rules don't work for me, because I always hit situations where they don't make sense, so I override them, and you can guess where that leads.
Something persistently visible: if I have to switch to it or check it, I won't.
But not something eye-catching: if it's ticking away on-screen at all times, it becomes a distraction of its own.
I found a few things that were close, but their faults always meant I stopped using them. So I made my own, in Game Maker Studio.

TomsTimer.exe
(v3.0, 2.5MB, Windows, installer)
It's a little application that you leave minimised, and its name on the taskbar changes to reflect how many minutes have passed since you set it.
So when I sit down at my PC, I start it, and then only when I actually get down to work do I click the satisfying button to reset the clock. That way I can glance at it to see how much time I've wasted, and once that becomes a point of shame and regret, I get on. And I click Reset, so it's now a tally of how long I've been productively working.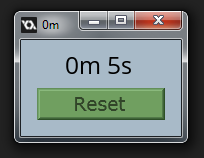 It only shows minutes in the taskbar so that there's no distracting ticking, but it shows seconds in the window if you switch to it, so you can see it's going.
I only just made it today, so I can't say whether I'll stick with it, but I like it so far. It's very satisfying, and its discouragement is very gentle. Once I'm aware of my bad habits I'm usually pretty good at adjusting them subconsciously without much faff.