I did Ludum Dare once, where you make a game in a weekend, and it taught me loads about how to be ruthlessly efficient and cut things before you waste time on them. I've skipped every game jam since then, and every event except the IGF, to focus on Gunpoint.
This weekend, though, I'm letting myself do one. Because a) I made loads of progress on Gunpoint last weekend, and am very close to being able to show you a new feature I haven't announced yet, and b) this will probably be the only chance I ever get to legally make an Adventure Time game.
It's the Fantastic Arcade Game Making Frenzy, and this year's theme is Pendleton Ward's amazing cartoon Adventure Time. Pendleton himself gives the bizarre opening talk, and the organisers say you're allowed to use any Adventure Time assets in your games.
I want to make a game where you play as Jake, the magical stretchy dog, and have to co-operate with an AI-controlled Finn. It's 11am on day one, and here's what I have so far.
I'll update this post as I go.
1pm. Goddamn it.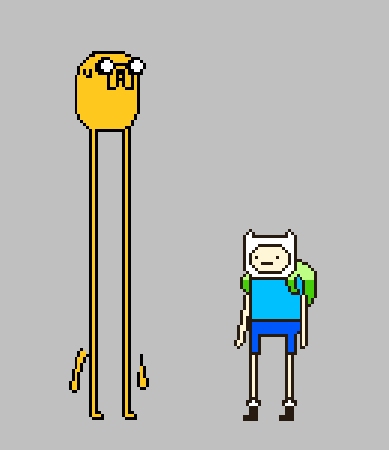 4.30pm. Got the main ability in there. I love Finn and Jake's relationship on the show, so I want to make a game where you're constantly helping each other out. This is how you help Finn:
How Finn helps you is what I'm working on next. Trying to figure out a way to represent it that doesn't need too many frames of animation, because these sprites take a while to make.
9.15pm. Paint Shop Pro 9 – at this point in my life, it's easier to learn a foreign language than a new image editor.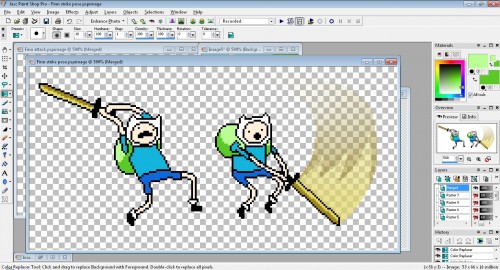 Most of the rest of the stuff I've done since 4 is making what I showed you at 4 actually work when you play around with it. In that build nothing was even solid to Jake. Now it's got gravity, collision, and feels quite nice to mess around with.
Hoping to get some rudimentary combat in today – if I do, that leaves me with loads of time tomorrow for making levels, enemies and systems, which is where it might get really cool.
As you can see, it's not particularly robust yet. But the main thing I needed to know was whether I can get away with just two frames of animation for Finn's combat, and I reckon I can. For a while, it was looking like animating Finn was going to be game-scuttlingly difficult, so that's a relief.
Lost a lot of time to three brutally difficult bugs today, but it all finally clicked together a few hours ago. Here's a vid of one short level:
The enemies are robots that have stolen some of Jake's… junk, so Jake gets more junk when they're killed, and can stretch further.
Just after making this I got a random level generator working, and I've just made it so that the random levels get harder (and taller) as you play. Next I want to get some text-dialogue in there, then sound effects.
1.55am. Done! It's called Jake and the Infinite Jerkbots, and you can download it from that link and play it now.
The fewer updates on Day 2 was directly proportional to the rising desperation to get certain things working – in other words, no time to blog. I'll make one last video at some point, but right now I'd really like to eat and then sleep, so I'll just give you a screenshot: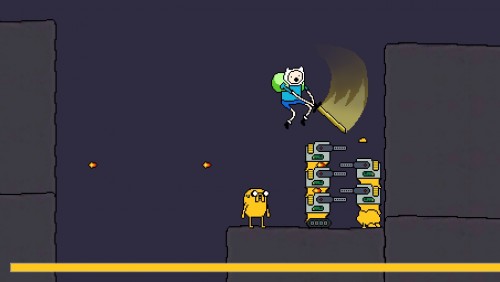 More Adventure Time, Game Jams