Or: I'm Completely Misunderstanding Google+
The main part of Google+ is a social updates feed like Facebook or Twitter. With Facebook, you have to confirm someone as your friend before they see your updates. With Twitter, anyone can see your updates without asking permission, unless you make a special 'locked' account. With Google+… Christ.
Sometimes when I think about it, it seems like the best of both worlds. But then I try to use it again.
If I'm misunderstanding, please let me know – most of my complaints are of the form "You can't do X, except by awkward method Y, and even then not really." I've looked, but if there's a proper way to do X that I'm missing, I'd like to know.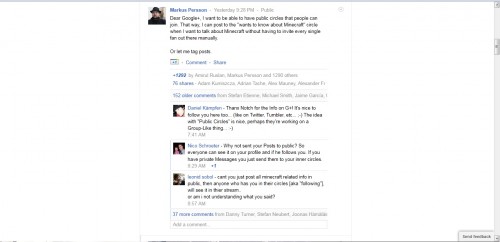 Bad news, guys. Notch said one thing, so now that's all I can see of my feed without scrolling. On the plus side, I completely agree with him here.
To add someone, you have to put them in at least one Circle – the default ones are stuff like Friends, Family, Work. You don't need their permission, like Twitter, but just adding them doesn't necessarily mean you'll ever see anything they say. That'll only happen if they also put you in a circle, and then make a post that's tagged with that circle, or if they make a new post and tag it as Public.
You can sort of see the idea: you might conceivably want to say something to your friends but not your family, so this is a sort of highly customisable privacy. But there are all kinds of baffling, awkward, clumsy things about the system that make it completely counter-intuitive, painful to think about and confusing to use.
It assumes you want to read everything everyone in every circle you make ever says. Your homepage is always an aggregate of all posts from everyone in your circles, and there doesn't seem to be a way to customise that. You can click individual Circles to see what people you've put in those are saying, but there's no easy way of clicking all the ones you care about and seeing an aggregate feed of those. Short of creating and then maintaining a separate circle that you have to update any time you update any one of the circles you want to include in it.
It assumes that the people you want to read are the same people you want to broadcast to. So if I make a 'Team Fortress 2' circle to post nerdy comments only TF2 players might care about, Google+ assumes I want to a) follow everyone I allow to see those posts in my general feed, and b) populate my Team Fortress 2 circle with everything those people say.
I can only categorise posts by who they're by, not what they're about. If I have a PC Gamer circle, and everyone at PC Gamer does, and we only post PC Gamer talk to our PC Gamer circles, I'll still see all that stuff in my general feed, and since these guys are also my friends, I'll also see all that work talk in my Friends circle. As far as I can see, there's no way for my work friends and I to ever keep our work talk separate from our social plans, say. That's less of a problem when you work for PC Gamer, but it seems like an incredibly common distinction to want, and the kind of thing the Circles system was built to address.
You can't see what circles people have put you in, but they're not exactly private either. For one, if you don't manually disable resharing on each post, anyone in the circle you post it to can share it to people outside that circle. Which may well include people who are in your circles and wonder why they didn't see that post from you in the first place. If you do disable resharing each time, because the people you're sharing to don't know what circle they're in and who is or isn't in it, they have no way of knowing who they can say "Hey, did you hear Dave's having a party/baby/midlife crisis?" to without causing awkwardness.
Every time I have ever gone to post something, the default circle to post it to is one I have never posted to before and never would. It's different every time.
Ultimately, it assumes the main thing you care about in life is preventing certain people from seeing certain things you say online, but that you don't much care what you read. That's the exact opposite of my relationship with the internet.
I would never broadcast anything, even on Facebook, I wasn't happy for the world to see – the internet is now 60% fueled by screenshots of people doing that. But I'm incredibly fussy about whose thoughts I want to mainline.
The running joke, the universal truth, the most crushingly obvious thing about social networking since the moment it took off is this: there's a vast gap between the number of people I like and the number of people whose verbal newsletter I want to subscribe to.
The two big social networks are both terrible at acknowledging that. Facebook won't let me follow anyone unless I claim they're my friend and they confirm it. Twitter won't let me filter out people I like but don't want to hear every thought from except with lists, which still don't work properly and are getting harder to access with each new design. Now, Google have come out with something that combines the worst of both worlds in a manner so confusing that it's taken me a week to figure out what it even is.
Or: Google have done something else in a manner so confusing that it's taken me a week to fail to figure out what it is.