We now have a slightly staggering 5,500 people signed up to test Gunpoint, and I haven't sent a build out for ages. This means I get more e-mail about it than I can respond to, so here's a quick FAQ:
Can you give me permission to publish videos from Gunpoint and make money from them in a really formal-sounding and unnatural way that will appease YouTube?
I, Tom Francis, hereby grant permission for anyone to make videos of Gunpoint and to monetise them. All of the music and art for the game was created for the game at my commission, I have full rights to grant this permission, and no-one else has any copyright claim to any of the game's content that could supersede this permission.
I didn't get a test build! Did you miss me out?
Nope, there hasn't been one in a long time!
Can I have the last one?
I've got all the feedback I need on that one, thanks!
When will the next one be?
I have no idea! I never do! Until the actual moment I send it out, any one of a million things could go wrong.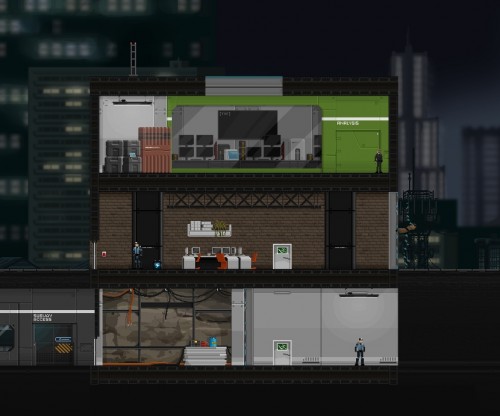 The new problem is: I can't process 5,500 people's feedback. And with each new version, I'd like to get lots of fresh testers' opinions – people who haven't played before. So it doesn't make much sense to send every version out to everyone.
There's no particularly great way to split up the testing list, so I'll go with the most logical: the people who signed up first get the first build, the next batch the second, and so on. Let me clear up any possible confusion with another edifying FAQ:
Which batch am I in?
I don't know!
When will I get a build?
I don't know!
Will people who get one build also get future ones?
I don't know!
I would like to stress that testing Gunpoint is really a way for you to do me a favour, by giving your input and helping to make the game better. If you don't want to do me a favour, that's OK! Don't sign up! Or unsubscribe! If you do, thanks, and sorry for the copious uncertainty.