Wow. Response to my badly made video has been crazy, a whole order of magnitude more positive than I'd hoped. Actually slightly nervous now.
The best result of this is that a whole load of really talented people have offered their services, and many have already done great samples. There have also been a lot of very reasonable questions that made me realise my last post didn't adequately define what I'm after. I called the current art a 'rough guide' without saying what about it should guide and what should be ignored.
So here's a bit more about the idea for Gunpoint's setting, look and mood.
World
Gunpoint is set in a big, largely empty city – or at least a largely empty part of a big city. It's only about 20 years ahead of present day, so most technology is the same.
You
You're a freelance spy. You get jobs from a site that lets agents choose from briefs written by anonymous clients. You wear a long coat and hat, and because you're a spy, I would rather your face is either not clearly visible or has no recognisable features.
You're the sort of person who acts very relaxed until he really needs to do something quickly, at which point you're a flurry of motion and then back to trying to look nonchalant. I haven't finalised your movement yet, but there's a chance you may need to go from a casual shuffle/saunter/mosey into a semi-urgent run as you accelerate.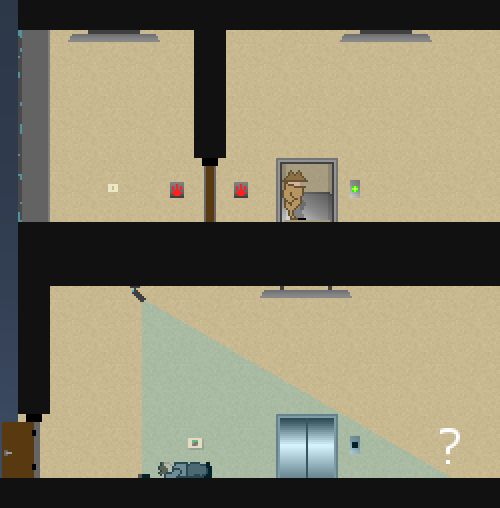 Gadgets
Through the agency, you buy a few rare high-tech gadgets to help with your work.
Hypertrousers: I always forget to tell people about the Hypertrousers. Compressed air actuators let you jump ridiculously far.
Gluon gloves: let you climb on any wall or ceiling. Adhesion does not actually use gluons. Gluon is a trademark of GluCorp and quantum physics is now a patent violation.
Crosslink: lets you connect any two electronic devices so that one triggers the other. Actually a cheap, widely available app for your phone, but so poorly marketed that only a handful of agents know it exists.
Tone
I want Gunpoint to have laughs, but it's not set in a crazy world of whacky characters. People die suddenly and undeservedly, there are truly nasty people about, and justice is not always done. If you've seen Kiss Kiss Bang Bang, that's the kind of tone: there are funny people in it, but they're out of their depth in a dangerous underworld.
Look
Every mission takes place at night. It'll also rain a lot. The main visual motif is meant to be the warm orange glow of a lit office block in the cold blue of a city at night. I have done a pretty lousy job of capturing that.
People
I'm fairly easy about style, but guards shouldn't have too much individual personality, because there'll often be a lot of them on screen at once.
The main restriction is that people have to be between 20 and 30 pixels tall. I said before that they could go over 24 if it's part of a whole makeover for the scale of the game, but looking into it, even a makeover wouldn't work with a 50 pixel tall character. Here's the problem: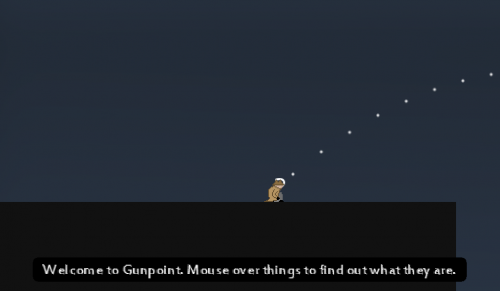 It's nice and clear, but where the hell is my jump going to land me? The character needs to be small so the jumps can be big. And I want Gunpoint to work on a typical netbook res, 1024×600, all the way up to 1920×1200. The art challenge is to make a low-res character clear and appealing.
Thanks so much to everyone who's put effort into the awesome samples I've seen so far. They're giving me ideas already, so even the ones that don't go in will have an effect.