The game I'm making, Gunpoint, is an infiltration game that lets you rewire its levels to mess with your enemies. It is ugly and has no animation.
I've learnt to do a lot of new things while making this, but art always takes me ten times as long as it should, and ends up… well, look at it. So I'd like to find someone who's willing to help out with the visual side, particularly with animating the characters. There are only a few, it's pretty simple.
In case anyone is interested, I thought I should talk you through what the game's actually about so you can see if it's something you'd want to be involved in. And for everyone else, I'd just like to give a better idea of what it does. I will probably regret this.
Here's me, talking you through a very early prototype of the game as I play it. This is also my first stab at making a video, which is why it's barely visible at anything less than 720p, everything's tiny, I'm really quiet and the game sound drowns me out a few times. Enjoy!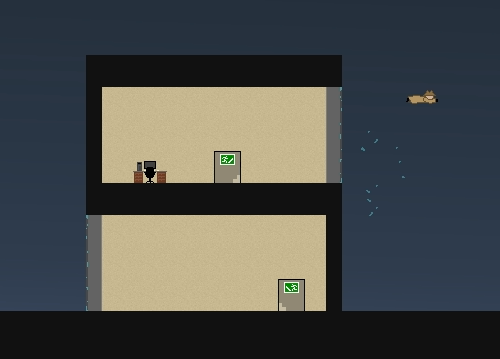 YouTube (HD)
–
Direct Download
(80MB .avi)
The e-mail address is pentadact@gmail.com. Let me know what you think in the comments, and fling the link around if you found it interesting. This is a lot more than I've shown publicly before, so I'm interested in whether it seems appealing.
If you're interested in chipping in with the art
Update – I no longer need help with the art!
The catch is I can't pay you – I'm making this in a small portion of my free time, it'll be free when it's done, and my budget is zero. So I'm looking for someone who wants to help out for fun, practice and experience.
I'd love to see what you want it to look like. You don't have to have any experience or qualifications, but if you could do a mockup of one character and their walking animation, that would be awesome. You can post it in the comments here or e-mail me.
Characters are about 24 pixels tall currently, but you can stray from that if you want to give the whole game a makeover – all the level objects and stuff.
There's a pretty good chance no-one's going to be up for this, in which case I'll just do it myself once the rest of the game's done, but it's worth asking. I'll still finish it, it'll just be later and uglier.
The art that's in there right now is a vague guide at best: I want the main character to have a long coat and a hat, but everything else is up to someone with actual ideas in their brain. The guards aren't supposed to be grey – this guy was originally a deranged civilian but I cut that role.
To be clear, here's what'll ultimately need doing:
Walking, climbing and ceiling-climbing animations for the main character.
Walking and running animations for guards, armoured guards, and professional killers.
Walking and running animations for some kind of civilian dude, and slight variations of him.
A few miscellaneous combat interactions.
A bunch of stuff I've forgotten.
Optionally, any environment and character art you can improve on. Lord knows it sucks right now.
The very loose time frame is about two to three months. The game may end up taking longer than that – I'd like to have it out by the end of July, but even that's not a hard deadline. Yay development!