I just finished Gunpoint's third patch yesterday, and a lot of what I need to do next requires outside help. So perhaps I can finally take a minute to tell you how it all went?
About 1 minute and 4 seconds after Gunpoint became available for pre-order on the evening of Monday the 27th of May, it had recouped its development costs. This was not entirely crazy, since the only actual development cost was buying Game Maker 8 for $30 three years ago.
Edit: This caused some confusion – sorry. I should have clarified that:
By 'development costs' I mean money spent on development, as opposed to promotion (one trip to GDC) and legal (getting some contracts drawn up). If you add those, it took a few hours.
I'm talking about the money needed to make it. Spending my spare time on this didn't increase my living costs or decrease what I was earning from my day job, so didn't add to the "How much money did I need to make Gunpoint?" figure.
The surprising bit happened next.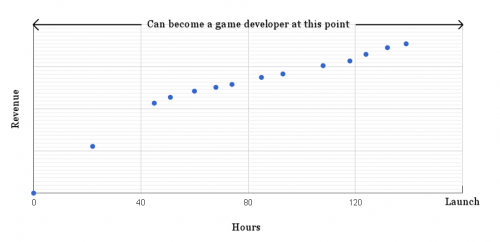 That's pre-order week, when the free demo was out but the game was not. This was beyond all my estimates – we were on course to sell enough for me to become a developer before it was even out! But would launch see a surge like those first two days of pre-orders? How fast would it slope off after that? Would we even-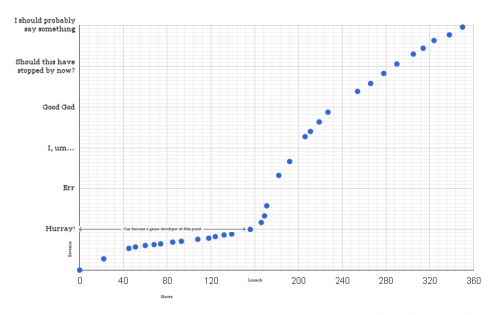 Jesus Christ.
So, I quit my job.
In fact, I think I have quit jobs, as a concept. I started Gunpoint as an audition piece to get myself a position at a developer, but designing it has been so creatively satisfying that I no longer want one, and so commercially successful that I no longer need one.
The upshot is:
I can now make games full-time for the foreseeable future.
More amazingly, I can do it with total creative freedom. There's really no pressure for my next thing to make a lot of money in a hurry, so I can do whatever I think will be most exciting.
It also means I can afford to keep being nice. I didn't let anyone pay for Gunpoint until I was ready to put a free demo out, so everyone would have a way to make sure it ran OK on their system and that they liked it before giving me any money.
I was informed by lots of people with industry experience that this is commercial idiocy: you want to hold it back so that excited fans buy without trying, then you can release the demo later to tempt those who weren't convinced. And with some (not all), you get weird responses if you bring up non-money factors in a business conversation.
"You'll lose sales this way!"
"From people who don't really like it? I think I want to lose those sales."
"No, you don't understand. You'll have less sales."
I'm sure they're right, and as a noob I appreciate the advice. In fact I got so much skepticism that I started to think the lost sales might actually be the difference between being able to become a developer or not. But even if that had been the case, I wasn't going to quit my job for a career in tricking people into giving me money and regretting it.
I have no idea if and how much the pre-release demo hurt Gunpoint's sales, but it doesn't matter now – that's how I want to treat people, and the amazing support for Gunpoint means I can afford to.
So, my deep, deep thanks to everyone who bought it. In return, as well as continuing to develop Gunpoint, I will make new things for you!
Update: Call for help removed – I'm now working with people to add Steam Workshop support and to port Gunpoint to Mac and Linux.
This'll free me up to manage how Gunpoint evolves, and to start working on a new game as well. Lord knows I have plans.