Gunpoint got lots of wonderful write-ups when I put up the first batch of shots two weeks back. In fact, the reaction took me by surprise a bit, and I've been struggling to keep up with all the interesting e-mails that have come in since.
I wasn't expecting anyone to cover this, so I didn't really talk to anyone beforehand. If you work for a site or mag and are interested in covering Gunpoint, just drop me a mail at pentadact@gmail.com.
I'm always happy to sort you out with a recent build so you can have a play, and answer any questions. I managed to do this with Ars Technica, so their piece is a preview. Here are some quotes from that, and some of the other lovely words people wrote about Gunpoint.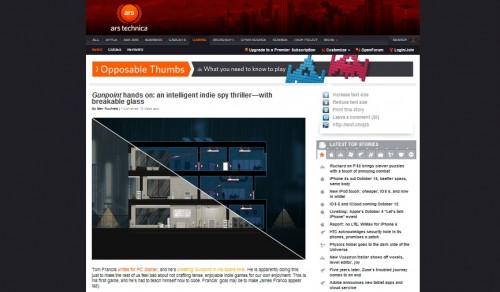 Gunpoint hands on: an intelligent indie spy thriller—with breakable glass
"Guns actually introduce tension into the game, which is a rare thing in modern action titles… In minutes I felt like a capable killer, and began skulking around each level like a pro. The full release can't come soon enough."
Ars Technica
Gunpoint Points Out Its New Look
"In between murdering trees and optimising for search engines, Tom's drafted in some artists to dramatically overhaul the game's look, which results in the rather eye-catching, Flashback-y aesthetic…"
Rock, Paper, Shotgun
Secret agent indie Gunpoint makes being an electrician cool
"From plumbers and farmers to … Noids, video games have a long tradition of elevating blue collar jobs to rockstar status. Now, after eying these new Gunpoint screens, it looks like we'll be adding "electrician" to that list when Tom Francis' secret agent game arrives this Christmas."
Joystiq
This Indie Game is Giving me Flashbacks of, Well, Flashback
"It looks wonderful, in a "Deus Ex meets Canabalt" kind of way. It also helps the game has photocopiers. I love games with photocopiers."
Kotaku
Stealth Platformer Gunpoint is Looking Mighty Fine!
"Gunpoint looks absolutely glorious."
IndieGames.com
Gunpoint's Graphics Now As Awesome As Its Concept
GameSetWatch
More Gunpoint, Gunpoint Press