The theme for this weekend's game-making competition is evolution. As usual, I'm gonna stick to working on Gunpoint but write up the idea I'd do if I had time to get distracted.
I think if you're going to make an evolution game, you've got to actually model evolution. God knows gaming misuses that word enough – we need to repay science for every time a game has claimed some magical goo caused our character to 'rapidly evolve' into a superhuman.
I can't think of a good way to put the player in direct control of that process, because that process is pretty much defined by the lack of direct control. Spore is a good example of what's not good enough in this context: the player chooses how his creature 'evolves', making it essentially a game about intelligent design.
So how about enemies that evolve? That keeps the theme nice and close to the central experience: you're always going to be thinking about and dealing with enemies, so anything that governs their behaviour and traits is going to be super important to you.
It also suits a game's natural difficulty curve: you want it to start easy and get harder, which fits well with enemies that start dumb and get better at fighting you. But how would we measure 'good at fighting the player'? And why would that lead to that enemy reproducing? When and why would you end up fighting its offspring?
You can fudge those questions, but you don't want to stray too far from how evolution actually works, or again, your game ends up just evolution-flavoured rather than genuinely about the mechanics of it. I tried to think of an idea that doesn't need a lot of fudging for evolution to fit with it, one where the evolution mechanic doesn't have to be dressed up or reworked from what it naturally is. The best I could come up with was this: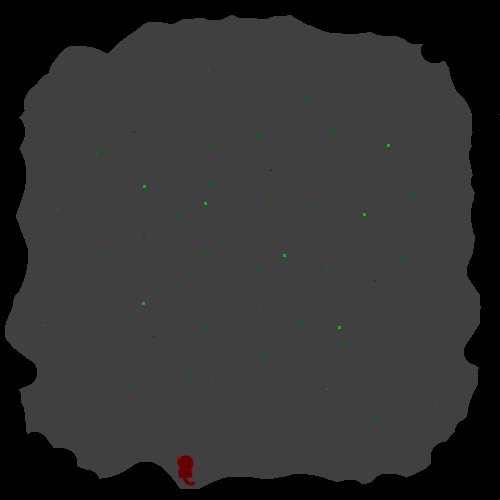 Slumber
You play a beast lying in a vast, dark cave. Roaming around the cave are lots of much smaller glowing creatures, each slightly different. As soon as you move, they all realise you're awake and run like hell.
Any time you get near one, a sticky web emits from your body and ensnares them. You can eat them quickly and easily. As you do, a meter fills up: you've got to eat about 80% of the population to fill it. When you do, your movements slow to a stop, and you fall asleep. For forty years.
In time-lapse, you see the cave repopulating. Each creature has its own values for Speed, Strength, and Resilience: random pairs of the survivors reproduce, having ten children each before they die. The children inherit a mix of their parents stats, but each child has a chance to be better at one particular stat. If they are, one or all of their others will be reduced, so their total is the same.
By the time you wake, all of the original survivors have died off, and only their children remain. Again, you've got to eat 80% of the population in order to return to your slumber. It's probably the fastest who survived your last attack, so this generation will probably be a bit faster.
After a few slumber/feast cycles, you develop the power to shoot your web-strings at fleeing prey to ensnare them. The strongest creatures can pull themselves free before you reach them. So in this generation, strength is more important than speed.
After a few more, your webbing becomes acidic, slowly killing prey it catches. Now Resilience is a factor: even amongst the strong, only the toughest live long enough to have a chance of freeing themselves.
From then on, every few cycles you can choose which of your abilities to improve: speed, web production, web acidity. This is not evolution, it's just your development as a maturing creature. But you can choose these to counteract the dominant traits of the prey population – produce webs faster if they're all too fast and getting away from you too quickly. And the population will, of course, evolve in response, as only the best at avoiding you will live to produce the next generation.
You could even have a 'Social' trait for the prey, which determines their willingness to help trapped friends out of webs. And maybe a fear pheromone for yourself, to counter-act it. You could intentionally kill everything with webs for a few generations, to see if the Speed trait starts to decline as it no longer offers an advantage, so offspring who lose it in favour of other traits start to do better and better. Then feast on the slow generation.
Also there'd be unlockable hats.