I'm giving a talk at GDC! It's part of the Indie Soapbox Session at 16.30 on Tuesday, in Room 2003, West Hall, 2nd Floor. Ten of us will give five minute talks, and mine is called:
How To Explain Your Game To An Asshole
It's aimed at anyone who makes or writes about games they need to explain.
Also, you can play Gunpoint at GDC! All the IGF finalists are playable in the IGF Pavilion on the main show floor, Wednesday to Friday. You can play Gunpoint there any time during show hours, and if you'd like me to talk you through it or ask me anything, these are the best times:
Wednesday: 10:00-11:00 12:00-14:00 15:00-17:00
Thursday: 10:00-11:00 14:00-16:00 17:00-18:00
Friday: 12:00-14:00
If you see me around anywhere, say hello! I look like this: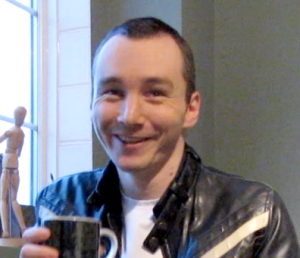 I've been prepping frantically, and now that I'm almost ready, I have time to think about what's about to happen. I can't believe you can just half-make a game for nothing, in your spare time, and end up on stage with your heroes. The talk I'm giving, I'm alongside Raigan Burns who co-created N. The Gunpoint kiosk I'm staffing, I'll be next to Terry Cavanagh and Mode 7. The award I'm up for, I'm against Spelunky, the game that inspired me to make games.
I feel like I skipped about ten years of hard work, failure and frustration and got straight to the bit where all your dreams suddenly happen at once. Six years of analysis and a few strokes of luck have done something freakish to this trajectory, and it feels incredible. Thanks, everyone. I'll try to make this good.