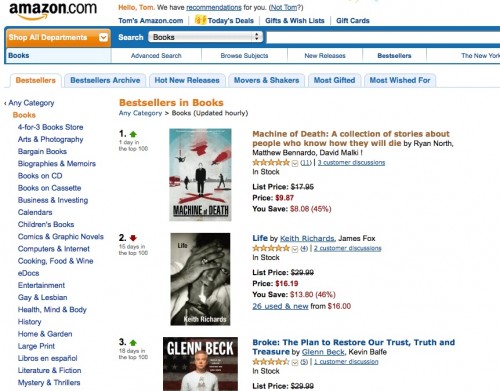 At about 7.30PM yesterday evening UK time, we finally pulled ahead of Keith Richards and became the #1 best-selling book on Amazon.com. Then we stayed there for twenty four hours. Sales were up 685,800%. We beat Glenn Beck's new book on its launch day.
Apparently: "It was mentioned as number one on the Glenn Beck radio program this morning as an example of America's preoccupation with death." It was "a plea to his listeners to buy his book and not let us death-peddlers win."
Thank you so, so much to anyone who bought it, and thanks to anyone who told other people about it. Not many people actually read the Machine of Death blog on a regular basis – not much has happened there for three years. So all this happened by people telling other people.
When the editors suggested a big push on the 26th, I thought it'd be cool, but we'd be gaming the system a bit. But really, we were just giving ourselves a launch day. We didn't know when it would go up on Amazon.com, so we had to wait until it had before we could start organising any kind of campaign. Other books get to dictate a release date and plan around that – we did the same, we just had to rely on a little good will from people to delay until a launch day we could organise for.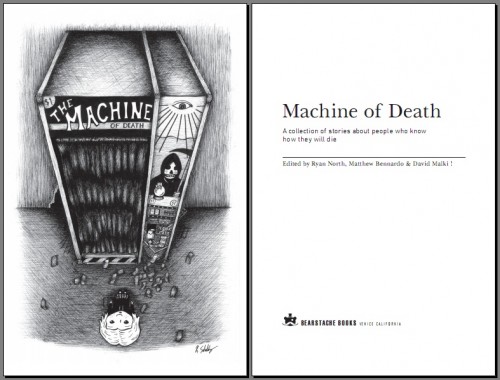 Malki now has e-mails from four bookstores interested in stocking it, including Barnes & Noble, and one from the New York friggin Times. He and Ryan did a funny sort of mini-podcast to say thanks and stretch more sports metaphors.
A lot of people are asking how many copies we actually sold – I don't have any insider info on that, but if Amazon's percentage increase figures are right- wait, they're not. See comments.
There's lots more info on the PDF, audiobook, Kindle and Vulcan mindmeld editions on the official site, which'll also have more info on if and when it'll come to Amazon.co.uk and the like.
Thanks again everyone, particularly those in the UK who braved the shipping costs to support it. You have accomplished something amazing, annoyed Glenn Beck, and made me and a bunch of webcomic dudes very happy.