With a comical inevitability, I have to admit I can't see Gunpoint being ready for Christmas. Lots of elements I think of as 'done' aren't really ready, and finishing each of those seems to take about as long as coding them in the first place. Then there's level design.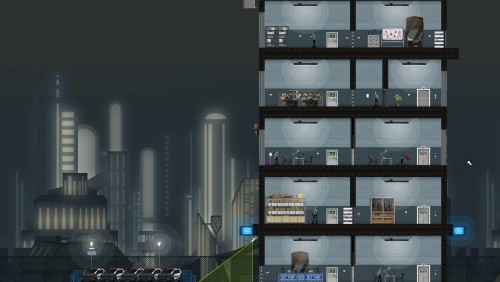 Level Design
I've been mentally filing levels under 'content', stuff I already know how to produce and which just needs a little grunt work to churn it out. I'm now discovering that it's really more like the game systems: something that shapes the experience so fundamentally that you need to get it in early and keep tweaking and revising it as you go along.
I've also learnt a lot about the difference between a puzzle game and something more open ended like Deus Ex, and some of it really surprised me.
In the first prototype that included the Crosslink device, you could literally link any device to any other. It was fun to mess around with, but there was no game there really – as I think all testers noticed, you could stand by one light switch and just wire it to everything else you wanted to change.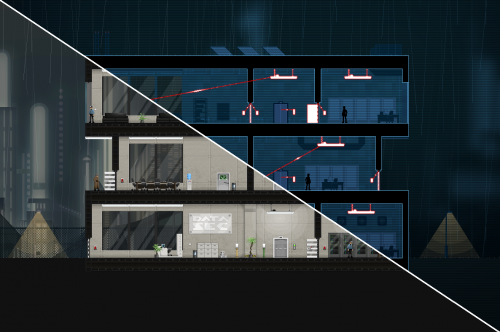 It was never going to stay that way, I knew how to shape it: I put some devices on different coloured circuits, ones you can't rewire until you reach the right circuit box and tap into it. That let me design puzzles: proper obstacles to your progress that you have to think your way around, tapping into the right circuit and finding ways to get to the next one.
I guess I just assumed that was level design, because when I sent out the last build I realised I'd pretty much ended up with a straight puzzle game. Sometimes it works, other times it feels like it's just keeping you busy: you have to get to this circuit box to progress, and there's really only one way to do it. If figuring out that method isn't interesting, the only fun is in the basic interactions: pouncing, punching, executing chain reactions, knocking people off rooftops and through windows.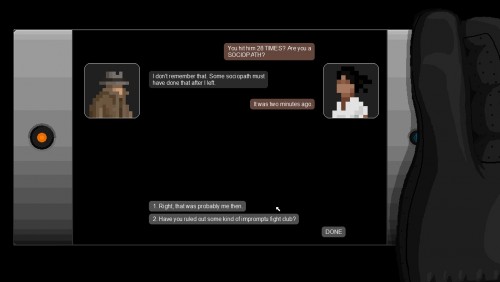 Alternate Routes
I should probably be happy with that. I asked testers what they'd give the game if they were reviewing it, and the overwhelming majority said 8/10. Even accounting for a large positive bias in the selection process, that's way better than I was hoping for.
But I still want it to be more than a puzzle game with punching. The point of the Crosslink mechanic is to let the player be creative, and I feel like I must be able to do a better job of that.
So I tried designing a new level with a completely different philosophy: make a building, not a level. Just make sure there are at least two routes to every objective and sub-objective.
It was terrible. It might be the worst level I've ever made. It felt like the game was just broken – you keep asking yourself "What's this room for? Why would I want to go there? Wait, I've completed it? Did I cheat?" It wasn't easier than the other levels, it just felt like most of it was misleading or irrelevant.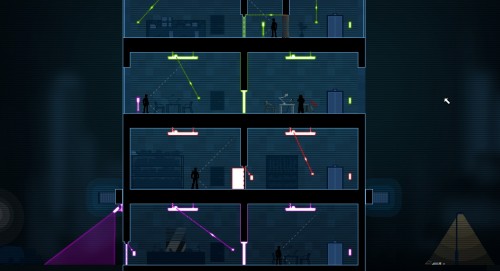 The Problem
I tried it a few other ways and kept running into the same problem:
If a puzzle has one solution, it's only really fun to solve once.
If a puzzle has more than one solution, one of those solutions will be easier or more obvious to the player.
So, you just do that one. Even if you notice the others, they add nothing: it feels pointless to take a longer or harder route, even if it involves some interesting tricks.
This really surprised me. I've always thought the opposite: that alternate routes are always valuable, even if you don't take them, because you appreciate having options. Nope! Sometimes alternate routes are just noise. Sometimes having a lot of options just makes it feel like there isn't really an obstacle at all, so getting past it feels more like a commute than a challenge.
So why do I enjoy taking alternate routes in Deus Ex? Why don't I always go for the first or easiest one?
Honestly: because it sucks. In Deus Ex the shooting is intentionally bad, and even in Human Revolution, the cover shooting is nothing like as cool as the stealth. Deus Ex doesn't offer you choice by presenting you with door A and door B. It presents you with a really difficult and awkward door A, then says "Oh no! I can't believe you found a vent!"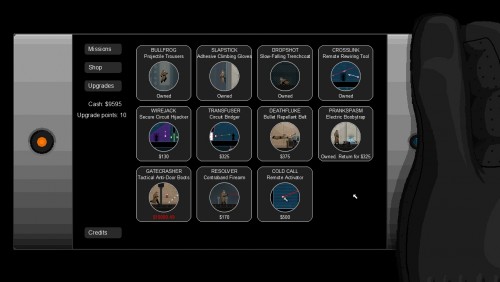 Choice
Choice, I think, needs to be a fuck-you from the player to the designer.
You have to see and understand what you're expected to do, and make a personal decision to reject it. Either because you just don't like it, or because it doesn't fit with the play style you've chosen.
In Gunpoint, that means I actually do want one clear solution to each puzzle. I just need to give you the power to override it and do things your own way if you want to.
I haven't finished figuring out my full solution to that yet, but here's what's working well so far:
1. Reworking levels at least twice
All my favourites are old ones that I've changed bit by bit, adding sneakier possibilities as they occur to me, and encouraging fun situations I found myself in when testing. Pretty much by accident, these have one clear solution and a bunch of ways to bypass it.
2. Play style incentives
I'd already planned for clients to have optional requests – "There's an extra $200 in it for you if you don't hurt anyone." Now that I've put these in, they add complex, tricky and ever-changing routes through the levels that I don't even have to design. Avoiding guards is almost always possible just because you're so mobile, but it's much harder than taking them out. It's not a fuck-you to the client, but it's a fuck-you to the conventional design of the level.
3. Gadgets
I've added some tools you can buy which can let you shortcut certain types of puzzles, and set up more elaborate chain reactions and traps. The Transfuser, for example, lets you connect two things that are on different circuits, with a pretty blended wire that shades between their different colours.
4. Persistent consumables
These gadgets have charges, and your total carries over to future missions. So sometimes the shorter route has a cost associated with it, and it's up to you when you think it's worth it.
5. Upgrades
You can upgrade lots of different aspects of your kit to suit different playstyles. If you go for one heavily, you can sometimes get past obstacles with the method they're designed to stop. The Deathfluke, for example, repels a percentage of the least accurate shots fired at you. Upgrade that and your jumping speed enough and enemies have a hard time hitting you, letting you get past them in some situations you're not meant to.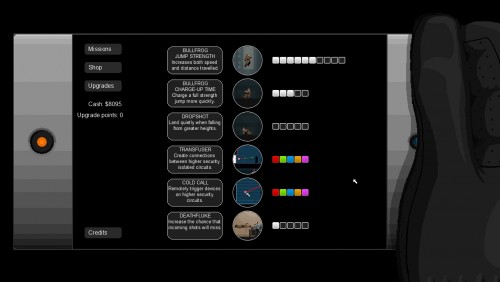 So that's partly why it's taking longer. I've got five or six levels that need designing from the ground up, and six or seven more that need a few more iterations to make them more flexible and fun. Then there's the little stuff, like creating a scripting engine for story events and writing the entire game.
Truthfully, I have no idea how long that stuff will take me. Lyingly, let's say March and I'll let you know when that seems impossible too. If you've mailed me about testing, I should have a version for you in December.
More Gunpoint