Sounds like I'm going to preach at you, but actually I want your opinion: which games have good stories, and why do they work?
I'm asking because I'm in the early stages of writing stuff for Gunpoint, but I'm also interested in general. I'm incredibly impatient with stories that don't engage me right away: Dragon Age 2 is dead to me, just because it introduced too many people I didn't care about and didn't make them do anything interesting in the first hour or so. The other eighty hours of the game might as well not exist.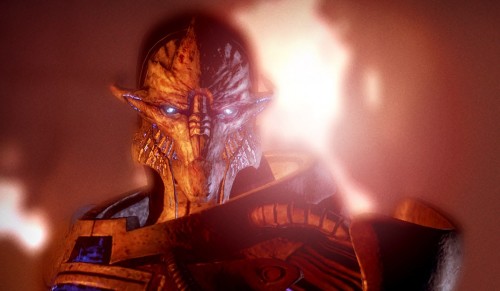 Cared.
Mass Effect, on the other hand, is my gold standard: I saw Saren's betrayal in the first mission (even though my character didn't), and it was genuinely maddening that he got away with it.
The rest of the game isn't even that well written – I didn't really understand why I needed the Thorian or Benezia or Liara or the vision or what the Conduit was until I read the wiki afterwards, but it didn't matter because the Saren thread hooked me so early.
Did not care.
What's yours? I'm interested in games that hooked you quickly, immediately made you want to know what happens next, and why you think they worked. I'm also interested in characters you immediately liked, hated or just cared about on any level.
Most games can do that if you're willing to read or listen to 3,000 words of dialogue, so really I'm interested in the ones that didn't take ten hours of investment to make you give a shit. CoughJadeEmpire.
If the answer's Portal 2, by the way, it would be nice if you could avoid spoilers. Cheers!
More Gunpoint