A million things to say about Gunpoint, but most importantly: please welcome John Roberts aboard as the game's main artist, and Fabian van Dommelen (Beldak in the comments here) as captain backgrounds and probably additional environment art.
This means the people in Gunpoint are going to look a bit like this:

The levels are going to look something like this: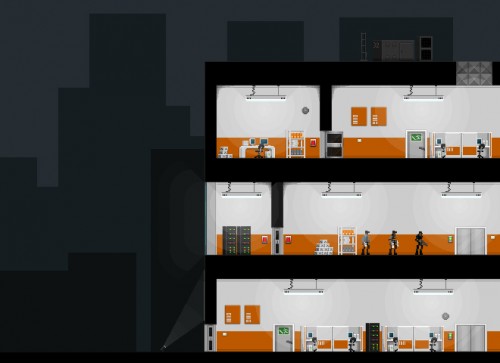 And sometimes a bit like this:
We're going to have a chat about it, try some things out, and tweak all this until it fits together nicely, looks clear and readable, and makes you really want to play it. At that point I'll try to pull it all together into a first proper screenshot so you guys can see what the game's going to look like.
I'm not kicking into proper "Woo, look at my game!" mode yet, but I have set up a Twitter account: @GunpointGame, to talk about the development, make programming jokes, link other indie dudes I think are cool, and ask you guys for opinions on how some things should work. I'll also be putting out future calls for testers on there – not sure when the next prototype will be yet.
As you'll see from the first tweet there, I've now got every feature I want in Gunpoint working. This is the fundamental stuff, like:
Branching conversation trees with player choice
Mission select menu where new jobs unlock depending on your performance and experience so far
A shop system where you can buy upgrades and equipment
Stats that track your performance in a mission so the client can react to how you dealt with it
It doesn't mean I have the pause menu done or anything looking good, but the full skeleton of the game is there now. The plan for those elements has stayed steady for a long time, but it feels a lot more concrete now I know they all work.
Once we know what we're doing for the art, my next job is making all the levels. Which means knowing what the missions are about, which means knowing the objectives, which means knowing the clients, which means knowing the key players and their conflicts and characters, which means basically coming up with the story. I'll put up another post about that probably tomorrow, because I'd like your advice on how to make it not suck.
Lastly, I was interviewed over at Laser Romance, about stuff like why Gunpoint is no longer about a murderous space robot.
As mentioned there, Gunpoint now has a proper URL if you want to link it anywhere: gunpointgame.com. It currently just shows you all the posts here tagged with Gunpoint, but I'll eventually make it a bespoke site. Incidentally, if anyone knows how to make only posts in the Gunpoint category appear at http://www.pentadact.com/gunpoint with WordPress, I'm having a hard time figuring it out.
More Gunpoint