It's humbling and overwhelming to have a bunch of talented people throw stuff at you. Content-wise, I mean. I'll stop gushing about it now, though, and just show you the best of what I've seen. Sorry to anyone who submitted stuff that isn't featured here – I have the enviable problem that to feature everything would actually grind development on the game to a halt, so I've had to be more ruthless than I'd like. I'll split this into Character art and Setting concepts.
Characters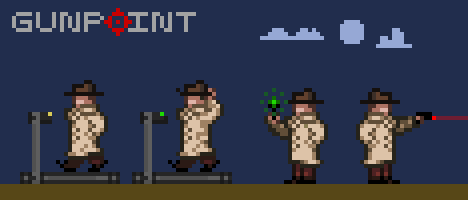 Ethzee
EthZee's main character mockup is exactly what I was hoping to get – something not a million miles from what I've got, but correctly proportioned, nicely shaded, and animated. I love that he used treadmills to explain why the walking and running animations stay on the spot.
Michael's stuff is amazing. It puts me in mind of some sublimely quirky French adventure, full of excitingly atypical characters. I tried to see a way it could gel with the mood and feel of what I have in mind for Gunpoint, but I couldn't. I really hope he can use this guy, and the others he made in a similar style, in a future game.

I particularly love Teck's second take on the hero. It's based on a sprite he did of Mal Reynolds from Firefly, and it's awesome that even at this resolution, you can kind of tell.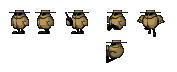 Michael Hodkinson
I am scared of this. Definitely one of the most original takes on what the character could be.


Dan Lowe
Dan, an artist at Bizarre Creations until they went under, did the awesome sprite above in the comments here just for fun. He can't actually do the art for Gunpoint since he's busy applying for jobs, but he had a go at reducing it down to the 24px size of Gunpoint's other characters anyway, and it's somehow even cuter.

The sprite above is the first thing John sent, his take on the 'professional killer' enemy type with an android twist (I hadn't set out my full specs for the setting at the time). It's one of the rare pieces of art that, even in isolation, just makes me think "Holy fuck I want to play that game." I'd be this guy, I'd fight this guy, I don't care, I just want to be playing around in a world with things like that. The guys below that are what the more conventional guards would look like: lean, capable, cool.
Eric's a professional who's worked on a lot of big licenses, which might explain why his version of the player character does such a perfect job of capturing what I was trying to do with my original art. I tried to do something cartoony in style without being silly, and that's exactly what he's pulled off.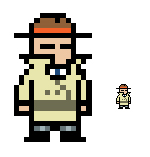 Chris
If there's ever a Nintendo DS version of Gunpoint, this is definitely what it should look like. I like the cleaness.

Condi Buggle
A great character, a little smarter than the Columbo-like slob I was imagining. I can picture him jabbing someone with his umbrella to release a slow-acting poison, and that's a quality I like in a sprite.
Setting
Great to see a complete take on it – some of the things I don't like about my placeholder stuff, like the beige walls, actually look fine once there's some well-drawn detail in there. Glass-backed elevator is a cool idea.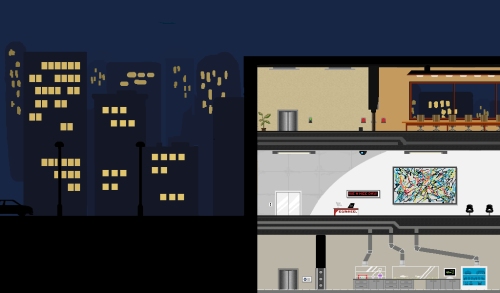 Chris
A nice selection of interesting environment types here – I think big windows facing out onto the city are a must, and I really dig the giant Pollock in the modern-looking office below.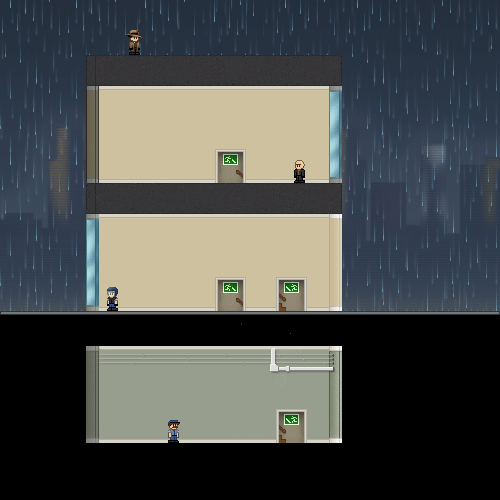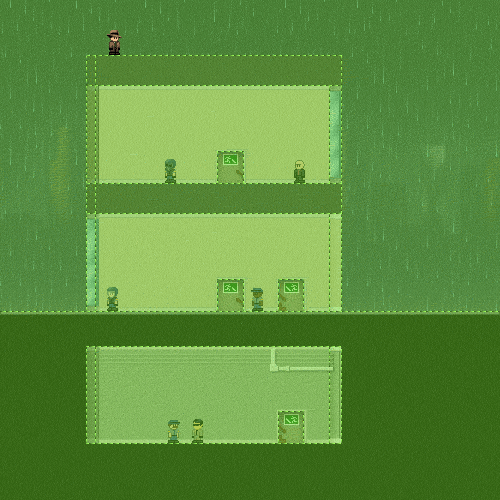 Graeme Moralee
This is about as clean, clear and cute as the game could possibly get – I don't have to magnify it, or even really open my eyes, to see every detail. The cityscape is lovely, as is the sparkly rain, and the whole thing has a nice cohesiveness. I can't quite figure out if the mood of the game would clash with just how adorable these guys are.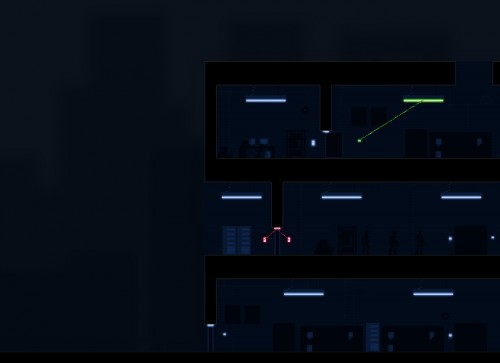 If you ask John (who did the awesome trenchcoated android) if he's interested in doing any environment art, this is what you get back the next day. It looks like a finished game. An amazing amount of detail – the cleanness and bursts of colour remind me simultaneously of Aperture Science and Mirror's Edge, which is sort of saying something. Click through for the bigger versions of these. The Crosslink mode is so much cooler than the way I imagined it, making it something you'd be excited to switch to rather than an ugly but necessary mess.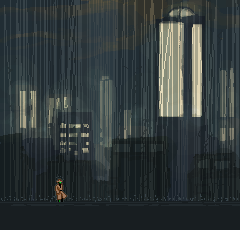 Beldak
Such an amazing city backdrop. Has the gloomy, ominous mood I was going for, but is also just slightly futuristic and strange – these tall lit towers are unusual architecturally, and it gives the place an intriguing atmosphere that makes you want to explore it. I'm so set on rain being a big part of the atmosphere on some levels that I've been thinking of having varying strengths of it – it's such an easy win on the audio side, and if heavy rain can look this cool, it's definitely worth it.
Despite the ridiculous level of talent here, I'm pretty close to a decision. I'm just waiting on a couple of samples to see how certain styles work with certain elements, and I'll know once those are in.
In the end, it's come down to style much more than quality – quality just isn't an issue when so many are so good. Any of these styles would make an awesome looking game, so I just have to go with whoever happens to click with the style and tone of the aspects of the game I'm doing on my end.
More Gunpoint