After spending more than a week listening to more than 45 submissions for Gunpoint's music, I've decided to go with Ryan Ike's cool, moody upright-bass style for Gunpoint's missions.
There were also two particular songs among the submissions that just clicked perfectly with different parts of the game: for the shop and upgrade interfaces you access on your phone, Francisco Cerda's gorgeous smooth jazz was exactly what I wanted. And for the game's more sombre moments, John Robert Matz's mournful and sinister theme tune was magnificent. So Gunpoint has sort of ended up with three musicians.
Coming to a decision was harder and much more time consuming than I expected. I got more submissions for this than for the game's artwork, and listening to a full music sample takes 1,833 times longer than looking at a sprite. The more I listened and played, the more I liked less prominent tracks that supported the game's existing atmosphere.
Thanks again to everyone who did such awesome work, and sorry to everyone I couldn't use. I was amazed by the calibre of what came in. Obviously I feel terrible turning anything good down, but I still believe in the open submissions process because I've been on the other side of it a few times. Both times I wrote short stories for the Machine of Death collection, it was with no expectation they'd get in – I just did it because I enjoyed doing it. I hope that's the feeling among everyone who's submitted stuff for Gunpoint, music and art.
You might remember I also did the same thing for the Crosslink noise, and got some awesome stuff. I've decided to use Jeremy Watssman's smooth warbly sound, which you can actually hear in his music submission video here. I'd also like to use the sound Ben Royle submitted for a different purpose, if he's OK with that: it makes a great satisfying thunk when spending points upgrading your gadgets. Update: he says, quote, "Fuck yeah!"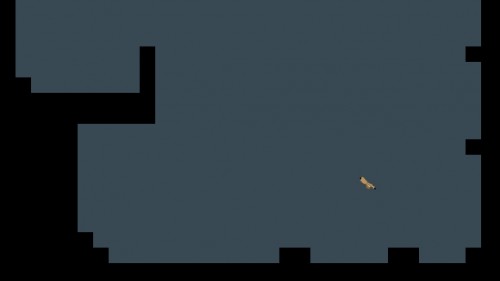 Gunpoint in 2010, before it had a title. The filename was just 'grey', after the background.
Lastly, I talked a bit about how far Gunpoint has come on and asked you guys if you thought I should charge money for the game when it comes out. I was expecting around 90% of you to say I should keep it free, and if it was as low as 80% I'd start to believe it might be worth something. The figure was around 1%. Over a thousand comments, the vast majority of people said "No! Don't give us a free thing! Charge us money!"
That's an amazing and confusing response for me, but you don't have to tell me twice. Well, you don't have to tell me more than a thousand times. I will obey your command to charge you money for Gunpoint, though I plan to keep it low and provide a substantial free version. I won't claim anything specific yet since I'd like to confirm how and through whom I'll be selling it first, in case they have advice or rules that affect it. I've talked with all my awesome art and music collaborators and we've agreed on a split we think is fair.
Exciting times! Although the music selection process and Christmas took up a lot of the break, I also managed to build a dynamic system for context sensitive music layers and overhaul the way your gadgets are powered and upgraded.
I still have a few levels left to make, and a fair few more I'm not happy with variety- and fun-wise, so I've used some of the time away from my PC to plan out new puzzle ideas, come up with some new gadgets and devices, and figure out which ones will be easy to code and add a lot of fun possibilities.