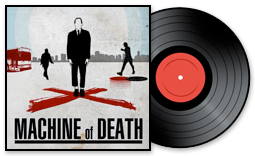 The stories from the Machine of Death collection are being gradually released as a free podcast, a sort of episodic audiobook. Mine just came out, read rather excellently by Christopher Joseph. Warning! Strong language from the first word.
Audio clip: Adobe Flash Player (version 9 or above) is required to play this audio clip. Download the latest version here. You also need to have JavaScript enabled in your browser.
Not totally sure why I don't get a mention, I think that might be an oversight. The site makes it clear enough who wrote it so it's no big deal.
One of many reasons I declined to read my own story was that my narrator is American and I am not, so it's great to hear it in its pseudo-native tongue. The flipside, of course, is that I'm not perfect at expressing the exact tone of voice characters are using, so inevitably there are parts that aren't as I'd imagined them. I don't mind that at all – my narrator is intentionally not me in some important ways, so it's kind of nice to hear him say things the way I wouldn't.
It also makes me realise how much clearer I need to be about who's speaking. Chris always gets it right, but without doing some kind of comedy accent for one of the characters, that's not enough for the listener to always know. I think I'm meant to write scripts rather than prose, I don't really care how non-dialogue information is communicated so long as it's clear.
Here's the direct MP3 link if you want to download it, or the RSS link to subscribe.
The book is now $12 from Amazon.com or £11 from Amazon.co.uk. You can also get it as an iBook for $5.99 or on the Kindle for £7.29.
The whole thing is also free in PDF form, and the text of my story for it is online here.
More Machine of Death, Podcasts