For the duration of Space Halloween (27th of Space October to the 1st of Space November), life and death in the Drift will be a little different:
Removed: Death
Due to science, you cannot die during Space Halloween. Bleeding out, suffocating, or being incinerated in an exploding pod will permanently turn you into a living skeleton. Once Halloween is over, you'll remain a skeleton but any lethal damage will finish you off. On the plus side, skeletons are undetectable by guard's heat sensors, and can spacewalk indefinitely since they no longer need to breathe.

Actual Ghost Missions
When taking a mission with the Ghost Clause, you are now an actual ghost. As with real-life ghosts, you can still be seen but all attacks pass through you. You'll return to normal once the mission is over.
Actual Skeleton Crew
Ships running a Skeleton Crew are now literally running a crew of skeletons. The skeletons are functionally the same as normal guards except that they can no longer feel hope.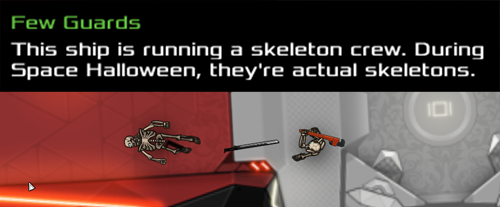 Does That Mean I Could Potentially Become A Skeleton Ghost?
That's a ridiculous question. Of course you can become a skeleton ghost.
A few other patch notes here. If you don't have Heat Signature, well, getting it would be step one.