I reshuffled this post a bit so I can link this part more easily:
It's been great to see how much people are loving this very silly weapon, and how excited people are to send us shots of them finding it. One thing I didn't forsee was that for a small number of people, it could cause anxiety: the fear of missing out, or even when they have it, the fear of somehow losing it. So we're going to simplify it:
If you play any time between now and Oct 5th, you'll unlock the Everything Gun as a random drop.
Within six months, we'll unlock it as a random drop for everyone.
I hope that allows it to still be a special thing for everyone who was part of our launch, without causing anyone worry. A few more details if you need them:
If you've already stolen it from the shipment (even if you died right after), you've already unlocked it even if you don't play again before Oct 5.
You can still steal it from the shipment if you haven't already, that's just a reliable way of obtaining it the first time.
Its unlocked status is stored both in your saves and backed up on Steam Cloud (unless you're playing off Steam or have disabled Steam Cloud).
It's a file called Progress.dat if you want to back it up manually.
Once it's unlocked for everyone it'll just be in the game, no save file involved, so there isn't and never will be any way to permanently lose it.
Three things to know about finding it as a random drop:
It's a Unique Item, the rarest tier, so it doesn't come up frequently.
It's a Unique Item, so there's only one per galaxy. If one of your active characters has it, you won't be finding it in crates in this galaxy, because look, there it is, that person's got it.
Any time it's not owned by one of your active characters, you can find it. Doesn't matter how/why/when it was lost. Doesn't matter if a character retired with it and didn't pass it on. Doesn't matter if you blew it up or flung it into space. Honestly it sounds like you're trying to lose it, but tough, you can't.
How The Launch Went
Heat Signature has been out for six days, and my God. It has been a storm. The good kind. It took three and a half years and I spent about £200,000 on it, making it probably the biggest risk of my life. And by the time it was done, the chance for any given indie game to succeed had dropped enough that the term for this trend ends in 'pocalypse'.
I knew I wouldn't have another Gunpoint-size success – that came out in the sweet spot for indie, when demand was high and supply was low. So my best-case-scenario was to do half as well as Gunpoint did in the same timeframe.
It's done better than Gunpoint. Not by much, and it's too soon to know if it'll have the same long-tail Gunpoint did, but so far it really is a Gunpoint-size success. We hit #1 on Steam on launch day, and stayed in the top 10 for most of the week. Thank you so much to everyone who bought it and spread the word, and to everyone who's left such lovely reviews. This was a huge gamble and I'm so relieved and grateful and frankly surprised it paid off.
If you haven't got it yet but plan to, the 10% discount ends tomorrow.
Reception
The other shock is how people are reacting to it. I knew I'd designed a weird thing – it's like a roguelike but in a persistent world, it's like Hotline Miami but it's not about skill, it has a goal but it's not the point. Whatever you think it is before you play, it's probably not quite that, and I've seen that not-as-expected thing lead to a bad reception for games I love.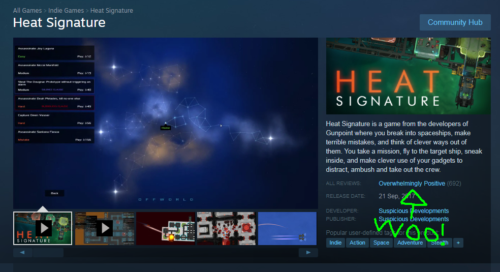 That does not seem to have stopped it. Overwhelmingly people get it, and I can use that word now because at time of writing our user reviews are 'Overwhelmingly Positive (95%)' on Steam. But more than that, so many people are having the perfect response to it: they're telling stories. For me a Story Generator is one of the highest goals in game design, it's the common thread between my love for Deus Ex, Spelunky and Invisible Inc. So it's wonderful to see Heat Sig is not just generating ones that players enjoy, but ones they're excited to share. This didn't happen with Gunpoint – people liked it, but at best they'd share jokes I wrote, not unique experiences they'd had.
If you browse a Twitter search for @HeatSig you'll see them still pouring out. This one by my friend roBurky is a favourite. Today someone sent us fan art they'd done of their own characters, their own story. That feels like a sign we got something important right.
Which brings us to:
Our First Player Legend Trading Card
We want real player stories to be the legends of Heat Signature's world, so we've been asking you to send us clips of your hijinks and turning the best ones into our Steam Trading Cards. We're still accepting these on Twitter and haven't nearly finished selection, but one came in that was such an easy Yes that we made the card right away. I'm posting it now to give you an idea of the glory that awaits you, and what a good entry looks like. To be clear, you just send us the clip (below – put @HeatSig at the end not the start) and say roughly what happened – John does your glamour shot, I give you a nickname and write your story. (I'm a recovering games journalist, let me have this.)
Ferris 'Swapshot' Harris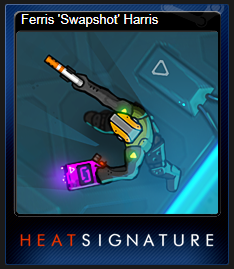 As a ship's security guard, especially as an armoured elite, you have to be ready for anything. This one saw Ferris Harris coming. He saw an Offworld Angel coming at his ship's broken window full burn, and even though he knew it couldn't dock, he was ready for whatever other nonsense they were about to try.
At the moment of impact, Harris hit eject. He threw himself from his pod, through the pressure-retention field, and skidded to a halt directly in front of the guard. The guard didn't flinch. He fired. And Harris swapped with him.
The guard was not ready for this. He suddenly found himself staring at the blue glow of the forcefield Harris just came through. He couldn't process the situation fast enough to realise what would happen next: his own bullet hit him in the back of the head. His heavy armour saved him from the lethal impact, but the force was just enough to nudge him one step forwards – into the pressure field.
What we don't know is if, in the 15 seconds between being flung into the icy void and asphyxiating, he had time to figure out what the hell just happened.
Now
Now I'm in a state of simultaneously needing a) a break, b) to catch up on a backlog of urgent things I let slide during development, and c) to tweak the game in response to feedback. But I'm happy to be doing all that in the aftermath of a success, rather than eg. the shadow of a massive financial disaster. So thank you for that!