In maths, 'natural numbers' are the ones you might use to count observable, whole things: eg. there are six people here. Anything that doesn't work in place of 'six' there, like 3.4 or -2, is not natural. They're kind of 'numbers you can see'.
I'd like to use the term in game design to mean specifically that: numbers you can see. Things that are represented so simply and wholly and countably that you don't need to display an actual numeric figure to tell the player how much they're seeing. They can just see.
Here's an FTL screenshot, showing how it presents your ship's various weapons and systems:

FTL is a game with masses of systems and numbers and configurations, which are part of what makes it great: there's a huge range of possible ship loadouts to put together, and a huge number of sophisticated ways for them to go wrong. But I never would have played it, and I suspect it wouldn't have got popular, if it felt complex. It doesn't – you learn it pretty quickly, and pretty much anyone can play.
For me, that was down to how 'natural' the numbers involved were, especially those power pips shown above. Do I have enough power to bring my drone systems online? You can see the three green pips of spare power on the left, and the two empty pips next to the drone system on the right, and you know immediately: yes. Interestingly, I don't think this even involves any counting or comparing of numbers, in the mathsy sense – for small values like this, we have some kind of low-level spatial recognition routines that just come back with an instant "yes".
It's further simplified by how these natural numbers reuse their same values in all contexts: the hitpoints of each system is equal to the power it's consuming and that's also the total power of subsystems it can support. These are concepts you have to learn, but learning them is easy because there's no maths to do, everything is one-to-one.
Here's a screenshot of Heat Signature: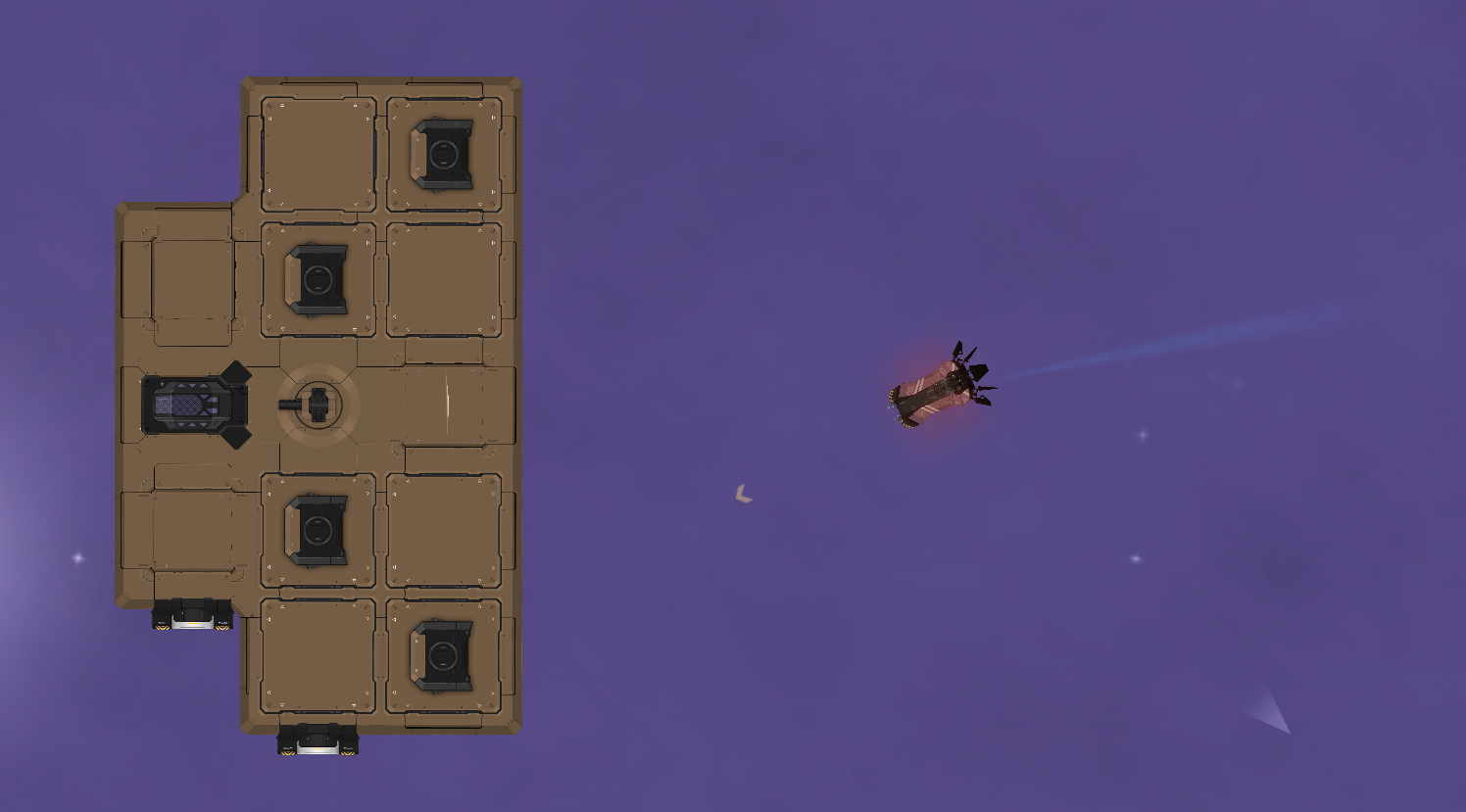 The player, in the small ship, is approaching a big ship. These are randomly generated and have lots of properties that vary from ship to ship, all of which are important. But there's no stats panel for them, here or anywhere else, showing that info as bars or figures. Partly inspired by FTL, I show everything I can in 'natural' numbers.
What's this ship's attack rating? Well, it's got one gun. That, to me, goes one better than answering the question. If an info panel said "Attack rating: 1", you still don't know what that means in real terms. I've spent hundreds of hours in RPGs without ever finding out what their 'attack' stat actually means – sometimes it's like accuracy, sometimes damage, sometimes attack speed. But if you've ever seen a gun fire in Heat Signature, you know everything there is to know about this ship's offensive capabilities right off the bat.
What's its manoeuvrability rating? If you've ever seen a thruster fire in Heat Signature, you know that it has 4 of them and you have a sense for how it'll feel to fly.
How many hits can it take? Well, one hit destroys one module, so just look at how many modules it has. Also inspired by FTL, things have a one-to-one-to-one relationship wherever possible. One gun fires one missile. One missile destroys one room. One gun takes up one room. So if you've ever seen one ship shoot another, you've already permanently memorised every conversion factor for every relationship between attack and defence, because 'one' is as natural as numbers get. So you can see at a glance how many hits this ship can take.
You probably can't count how many, at a glance. But what I like about natural numbers, if you use them throughout, is that you don't need to. There's no reason you need to know whether there's 13 modules here or 15, because nothing else is expressed in terms of figures. You can see that there's that many.
That visual, spatial, intuitive sense data is more immediate, more memorable, and easier to compare than a dry number. If you see a ship with more guns than this has modules, no number comparison is necessary to see what happens next – in fact, you can't help but picture it.
And your sense of by how much that ship is outmatched is more powerful than if you'd learnt it from figures: if you were on the smaller ship, the urgency to get off it would be that much more intense.