If you own the Exclusive Edition of Gunpoint on Steam – or the Exclusive Extras as DLC – you now have access to a Windows-only, very rough and time-limited alpha test version of Heat Signature!
If you don't, though, I don't recommend buying it just to get in on this! This is very unfinished, very unoptimised, and time-limited: I will close it down in two weeks and then you won't have it anymore. It exists purely to help me find problems with the game and get people's thoughts, not necessarily to give them the best experience or one I'd charge for individually.
In case it's not yet abundantly clear: this is not like early access, getting in on this alpha does not get you the game. As with Gunpoint, I'll also be doing free closed alphas too, and I'll let everyone on the mailing list know when they can sign up for that. This first one is just a perk of the Exclusive Edition, part of what I promised to say thanks to those who supported Gunpoint so generously. I did the same thing with Floating Point – Exclusive Edition folks got the first alpha, then later ones went to people who signed up.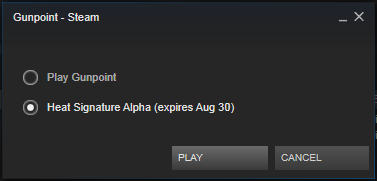 All that said, if you are in on this test, I hope you like it! Please do follow the link in-game and fill out the feedback form at some point in the next two weeks – I'll be keeping a list of all the people who actually give me feedback, so I can include you in some future tests if I want to make sure I get responses.