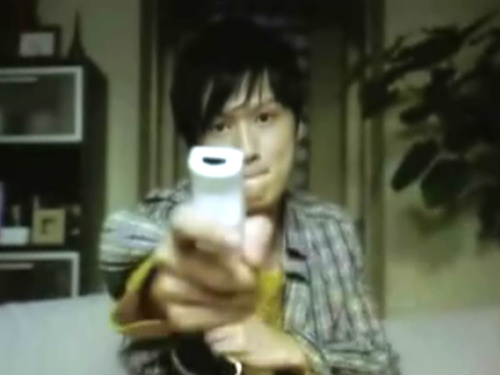 If you haven't seen the curiously under-linked video, you must.
Now that our brains are synchronised, I'll stop pretending I'm a news source. I'm just posting to say this: whoa.
Usually when people talk about making games easier to understand for non-gamers, they mean restricting your input so as to simplify the games themselves so that the poor luddites can get their tiny little minds around them. The engineers of this controller appear to have happened upon the idea of removing the stupid, awkward bits of a controller and replacing them with an elegantly powerful and precise way of moving that's immediately intuitive to everyone. Because non-gamers aren't stupid, they're just not used to the conventions our control systems have come to rely on. And when they discover these conventions are mostly awkward, clumsy and idiotic, they're understandably unwilling to invest time in learning them.
I'm the same – I have fingers and reactions, I could learn to be good at a console game or two. What puts me off isn't that I'm daunted by the difficulty of doing so, nor is there a complete dearth of things I'm interested in playing – I've always fancied Ico, for example. But I won't invest the time and money in getting and getting used to a console because I resent them. I resent being asked to wiggle an analogue stick, nudge it as little as I can to lurch my character's aim in five degree chunks at a time. I'm not a caveman, I've seen the mouse, and anything less is an insult.
This thing, if it works as intended, is better than a mouse. It brings a tear to my eye to say that. Assuming there is a single proper game for it – and what the fellow pictured above is doing in that video implies there will be – I will buy this thing. I will become a gamer, not one who hastens to prefix 'PC' when someone calls him one. Meanwhile, I hope, many previously multi-platform gamers will become snobs like myself, unable to touch those batlike plastic lumps dangling from your 'X-Cubes' and 'Play-Boxes'.
Oh God No What Are You Doing To It?