And How His Guts Were All Suspended In His Fingers, And How He Held Them

I had my first appraisal last week. I was supposed to have one after three months, to tell me whether I'd passed my trial period and to what extent, but by the nine month mark this seemed almost implied. You have to score yourself first, on each of the 'Core Competencies' of your job, then during the interview part of it your appraisers shift these scores up or down as appropriate.

Later Craig said "I think everyone walked out of their appraisal thinking they were the greatest person on the planet."
"That's because we are," Mark Sutherns explained.

Speaking of being much better than everyone else, our publishing company recently acquired our only rival - PC Zone. You'd think this would be an end to the war, the start of a new age of co-operation, but it's basically just bad news - now the enemy is better-funded. Everyone seems to have the idea that one-upmanship and bargaining for exclusive demos is what spurs writers to produce entertaining and even-handed articles.

Soon we're moving office to a weird modern complex built around a Starbucks-enabled Deli nexus, transactions with which are carried out with 'cashless' cards. It also has free vending machines for coffee and stuff, which is all terribly impressive, but in our current office we have a kitchen. It's an old-fashioned solution, but it has a versatility and 'cashlessness' that I admire.

How He Held Them

Politics is really boring. I'm never going to talk about politics here, or even 'issues'. I mention this because everyone else's blog seems to be about current affairs or exposés on things nobody thought were any good in the first place. Yeah, we get it. Bush is bad. Everyone with a computer already knows that, there's no point in saying it on the internet.

You know what else no-one will shut up about? Who's attractive. Not celebrities, just people they see, and people they know. It's not just that I don't care, I really don't want to hear it. It's like talking about your toilet habits or something. I don't want to know what any part of your body below your neck is doing.

Held Them In

Without more than a few lines of further ado, here's another lousy episode of Tom Reviews Things, In His Underwear, When He Should Be Working.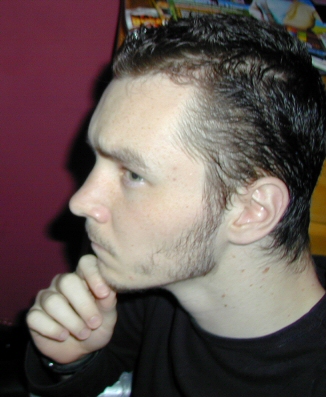 Counter-Strike Source

Craig got me a copy of Counter-Strike: Condition Zero before the beta of this started, because that gets you into the beta automatically. The most immediately exciting thing about it is that the executable it runs is called hl2.exe - seeing that in Task Manager is pathetically exciting. The next most immediately exciting thing about it is that it runs really, really well. There are some figures here. After that, it's the way combat looks: the models are beautiful, dark swathes of blood flick onto everything when you mow them down, and their limp bodies slump more convincingly than you've ever seen before. Running into a grenade explosion as a corpse flies out of it drives home just how much good rag-doll and clean, coherent, bug-free effects matter: it's the most cinematic multiplayer experience ever, and it feels entirely appropriate that the world goes silent at that point, then fades back in to a numb ringing before you can hear anything again.

Something odd happened to graphics while we were waiting for Doom 3 and Half-Life 2 - Far Cry appeared, and everyone was bowled over by its stunning tropical vistas, gleaming metal surfaces, stupidly intricate shadowing and stenciled, bump-mapped opponents. But it was kind of assumed that this was just a taster of where technology would go next - this but better! Nope. That was pretty much the peak. It's downhill now for about six months, then the rest of the world will catch up with what those crazy Greek brothers finished and had on the shelves six months ago. Doom 3 tried a similar thing, but effects-wise it was inferior, technologically it was wildly inefficient and artistically it was just funny. That's fine. I don't care what an Id game looks like because I'm not going to play it. The only thing I really want to be stunned by visually are escapist shooters set in Micronesia and Elder Scrolls games. For everything else, I want exactly what Counter-Strike Source has: clean, perfect visuals with sharp, perfect textures and versatile, perfect physics. And Source makes all that run on a GeForce 3.

I never got into Counter-Strike originally - I just died again and again and had to wait a whole round watching fights that were over in half a second of incomprehensible machinegun fire, and that put me off. Meanwhile Action Quake 2 was fun even if you never got a kill, it was mostly played in straight deathmatch - so no waiting - and it had two things Counter-Strike would never have: throwing knives and the 'puck!' noise for headshots. Really, the headshot noise was that good, it was around 35% of the appeal of the game. Counter-Strike will probably never have throwing knives, and that wasn't even the point, really - I've since learnt that it's not throwing knives I love, it's Action Quake 2's throwing knives: the weight, the arc, the 'chink!' as they slot into a man's chest, the armour-ignoring one-hit kills. But it does now have the headshot noise - that exact headshot noise. If AQ2 hadn't stolen it from somewhere else in the first place and they owned the rights to it and neither mod was free, they could sue.

Anyway, Condition Zero got me into CS via the friendly learning curve of bots on 'Easy', and soon I was ownzoring 32 'Medium' bots at a stretch, and knew the Terrorist Krieg was my one true love. CS: Source is much better - the cinematasticness of the engine dramatically increases the appeal of every fire-fight, even the ones you lose, and every tweak, refinement and change is for the best. The Tactical Shield of CS 1.6 is gone, for example. I loved playing with that thing (particularly as a 'knight' - Tactical Shield and Knife only), but I'm happy to admit it was a stupid addition to the game and threw both the balance and the feel of combat way off. Flashbangs are still in, and if anything more devastating than ever, but the new effect really makes it into a "Fuck! Fuck! Shit! Fuck! Aaaaah! Fuck! My eyes! Fuck!" experience, rather than an "Hurray, I can't see and I'm dead." one.

I'm now at the dizzy heights of 'below average', online. I'm usually hovering somewhere in the upper echelons of the lower half of my team's score ranking, my deaths significantly outnumbering my kills and my funds rapidly dwindling. I always join the losing team, which is only polite, but that's almost invariably the Terrorists because Dust is a CT-friendly map. So I have an affinity with the Terrorists. But happily one in three or four servers is full of inferior players, and in this environment I almost consistently end up second in the game, which usually means top of my team. This is awesome. Every kill in CS feels profoundly satisfying - a combination of the inherent gratification in defeating a human opponent and the impeccable way in which CS: Source renders this. And since you can't actually control the difficulty of a multiplayer game, that's as much as you can ask of one.

Score: Terrorists Win!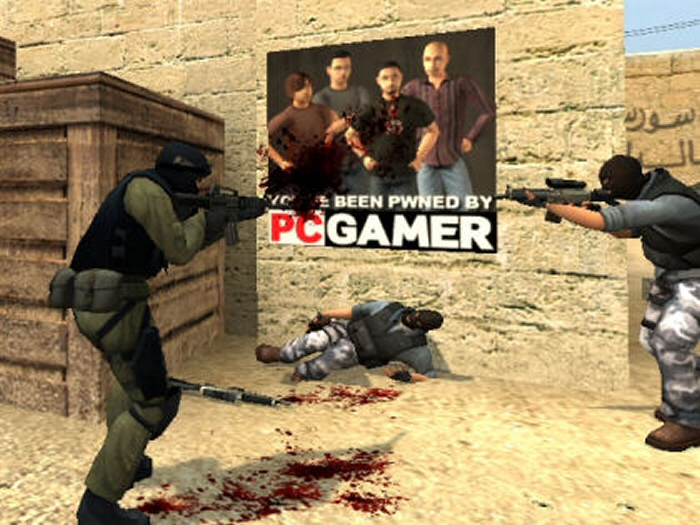 City Of Heroes

I got this about six weeks ago - my first ever MMOG, and a nice simple one to start with. One of the elements of its easy, shallow nature that people compliment is its fast-levelling, but actually the slowness of levelling is probably my biggest problem with it. I'm sure it is faster than other MMOGs, but that dot that doesn't mean it's fast enough. It would be if it didn't have an XP 'debt' system as a penalty for dying, because the levels I've made it past alive went by at a fair old rate. Once you've died a second time without having worked off your debt from the first, though, you just feel like giving up.

The other thing they need to get rid of to make it even more accessible than it already is is the Endurance thing - attacking exhausts you a bit, and when you run out of Endurance you can't attack at all until it regenerates. This - and it's hard to imagine how they failed to see it coming - leads to situations where you're just standing there in a fight waiting for your endurance to recover. I guess they thought you'd run away, but no-one does - it just doesn't seem like the right thing to do if you're really tired and want to get your breath back: sprint off at top speed. My level 15 character can't take on a mob of more than two enemies without exhausting himself bashing them, and so he's just no fun to play with any more. The Endurance cost of your powers goes up as you level, your Endurance doesn't - not by much.

Still, every other MMOG has nine worse limitations for each of City Of Heroes', so it remains the best MMOG for me and a lot of other people. I imagine it's one of the quickest-selling, particularly for a non-sequel from a relatively unknown developer, and such a minor tie-in (I'd certainly never heard of the comic book, and I into comic books for a long time).

I should also mention that City Of Heroes is brilliant. The character creation system produces the most colourful, interesting and distinctive avatars ever seen in a computer game, and the knock-on effect for the game is that wondering around popular areas is fascinating, and meeting people is interesting even if the people aren't.

It's also slick, polished, graphically beautiful and always satisfying - blows seem to really connect in a way they never do in other MMOGs, and they're good blows - I still find myself gaping at some people's powers. Back when I was just watching over Al Bickham's shoulder, and he was in trouble with a shotgun-wielding goon, his life-threatening opponent suddenly flew twenty feet into the air and slammed back down again dead. Then a tiny green woman called Esmeralda walked over.

Once I was playing myself, my first glimpse of what I would later find out was Super Speed was when my low level team and I were crossing a highway at night. I stopped to look at a tiny yellow speck on the horizon, and in the five seconds I watched, it became a glowing fireball hurtling towards us, then in the instant it passed I could see that it was an eight-foot-tall battle-axe wielding robotic knight. The next instant it was just a glowing trail and a speck on the other horizon.

Another time I saw someone in a back alley put their fingers to their temples and fire a stream of screaming skulls from their face. Seeing that he had an audience, he turned to me and said "they chase em too :)"

Score: Super.

The Incomparable D. Fenestrator
Level 15 Claws/Super Reflexes Scrapper

Diel Fenestra was a top scientist and engineer for his country's defence organisation when his design for a 'Light Combat Suit' was rejected for being too 'crazy'. Enraged, he threw the entire board of directors from the third-story window, donned the prototype suit himself and took to the streets to prove its effectiveness in the field. Incredibly, 'The Defenestrator' was already taken.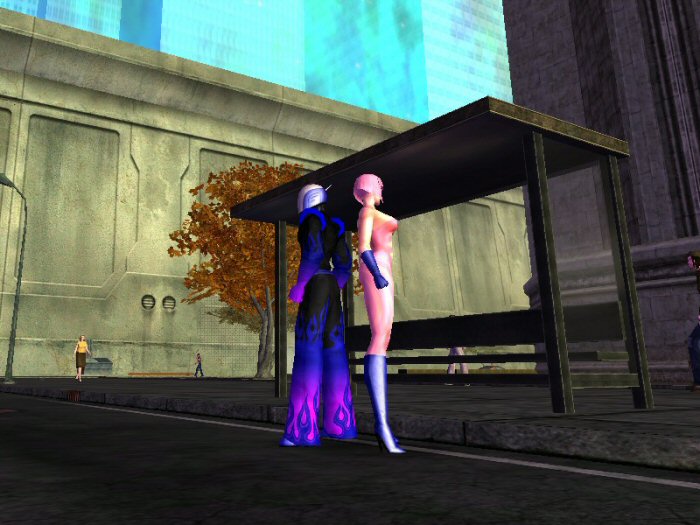 D. Fenestrator and his trusty sidekick Ms- actually, who is that?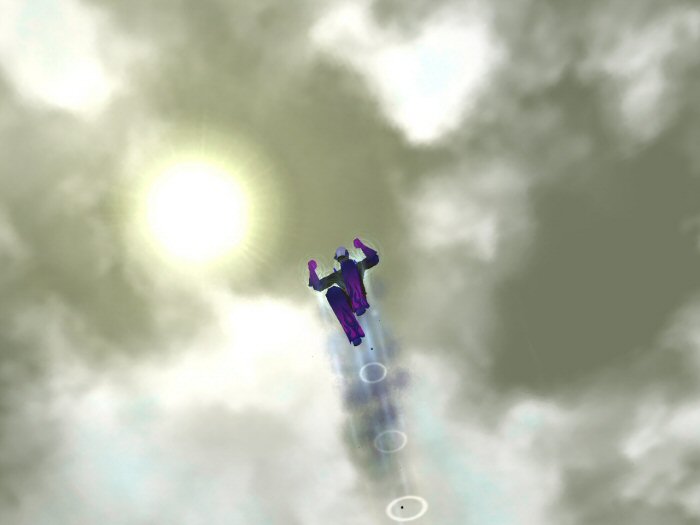 At level 14 you can pick a completely awesome 'transport' type power - Flying, Teleporting, Super Speed or Super Jumping. As a frog fanatic, and a chooser of the least obviously appealing option where possible, I had to go for Super Jumping.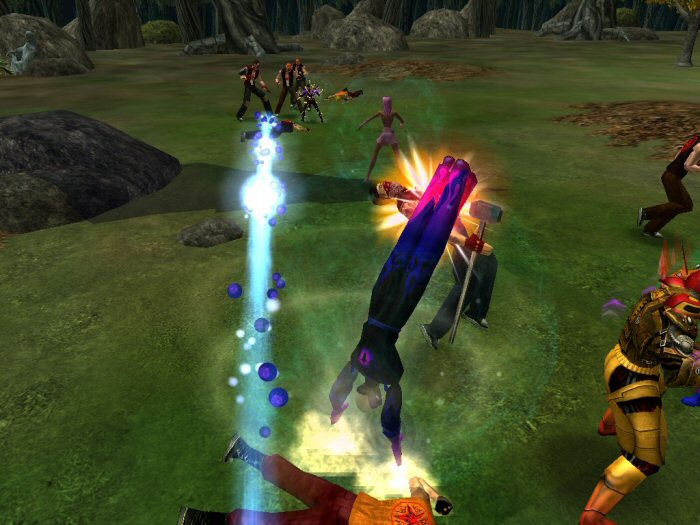 I can also totally kick people upside the face.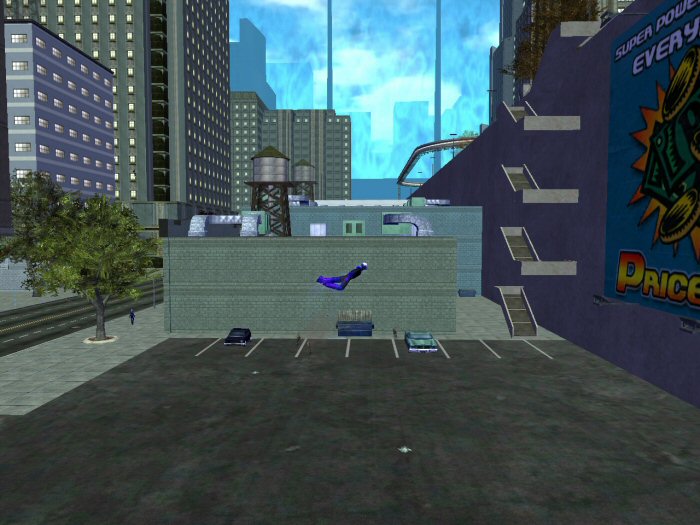 Did I mention I could fly? I can pretty much fly.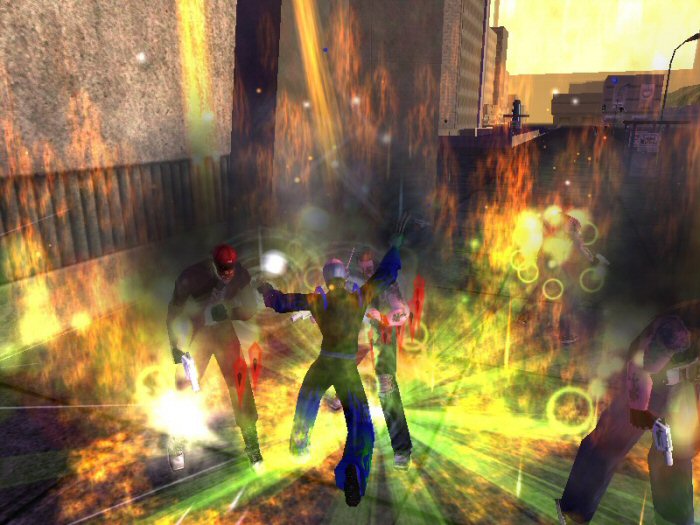 Scrappers aren't as tough as Tanks, have no long range attacks and don't do as much damage as Blasters. They compensate with enthusiasm.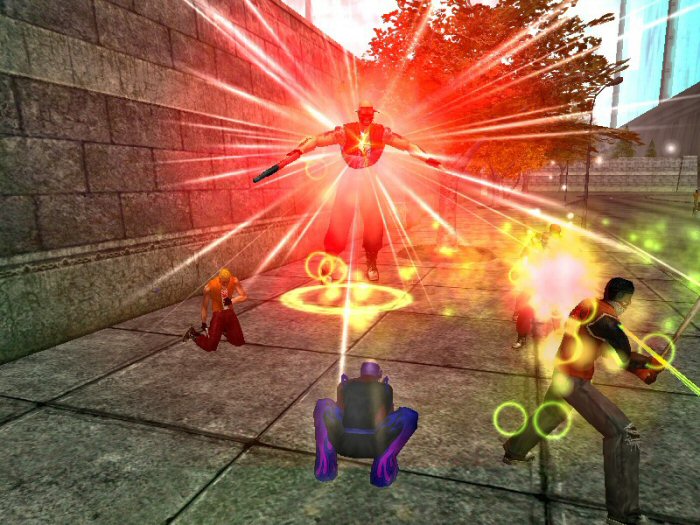 I find it's best to duck when the coloured light starts to fly.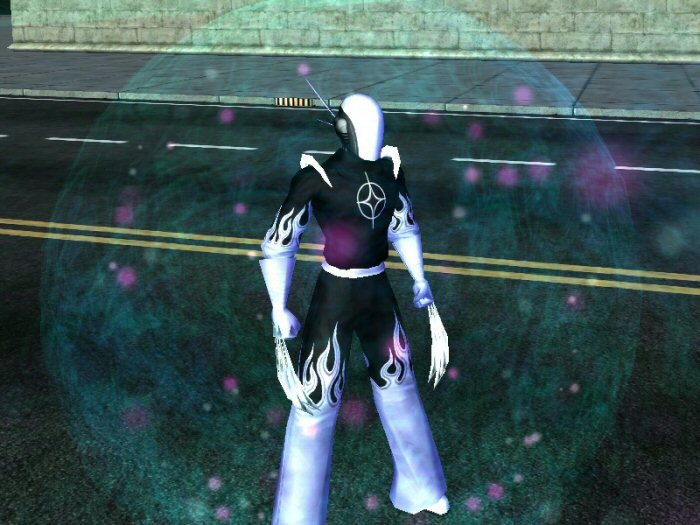 My Supergroup uniform. The guys in my Supergroup are jerks and I never fight with them, but dear God do I look good in the uniform.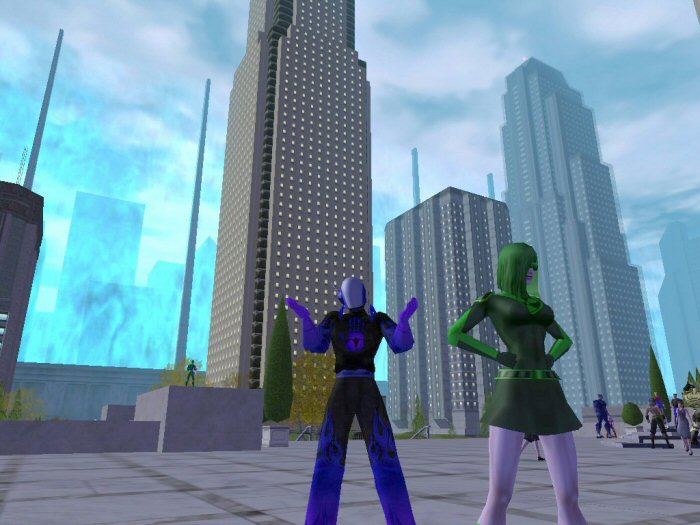 D. Fenestrator and his trusty sidekick Nukenurse, played by Mark Sutherns. Not officially his sidekick. More on her below.




The Citrus Punch
Level 5 Dark Melee/Invulnerability Scrapper

An amateur dabbler in the dark arts whose powers, hair colour and resilience were forever changed - for the better - by the radioactive explosion that spawned the Contaminated. She claims to bring a fresh and zingy twist to the traditional hitting of bad guys, but from the sidelines it's hard to guess what that might be. One thing is clear, though: her hair really does look better this way. It was pretty drab before.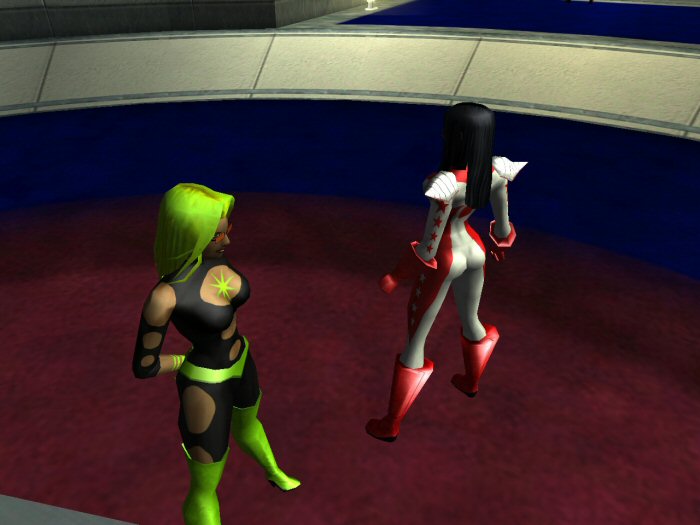 As a superheroine it's important to check other heroines out to make sure they're not better dressed than you. The Citrus Punch has nothing to worry about.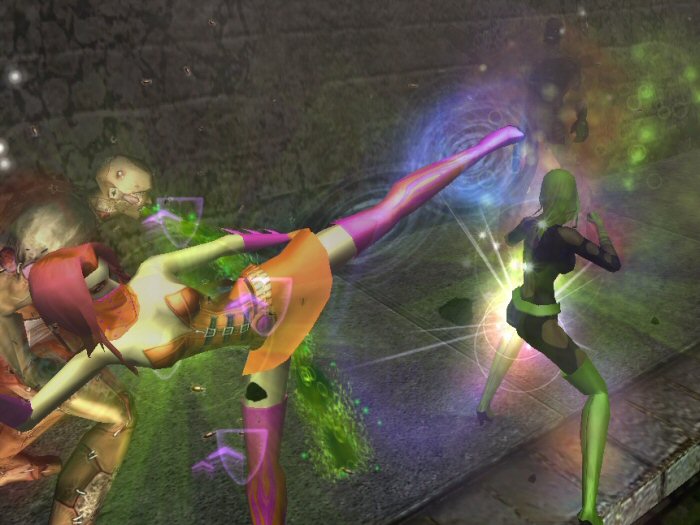 The Martial Arts Scrapper Orange Maid lends a hand, in what must be among the ten best fruit-themed multiple-blows-oriented Scrapping teams I've been in this week.




Nukenurse
Radiation/Radiation Defender

Not one of mine, as I say, but rather Technical Editor Mark Sutherns'. Defenders and Scrappers always compliment one another well, so she and D. Fenestrator have generally been an effective duo. There was a time, however, when we found ourselves unable to cope with the enemies we'd aggro'd around the entrance of Perez Park. We retreated to the safety of the outer gate, where people gather to form teams and prepare before entering the park proper. A near-epic war erupted between the hordes following us and the dozens of super-heroes hanging around waiting for friends, and multicoloured explosions filled the air while Nukenurse and D. Fenestrator lamely apologised to the desperate combatants.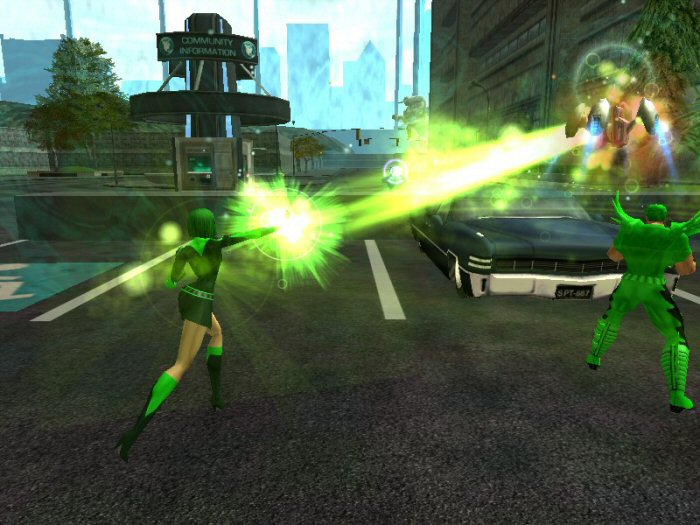 The thing we're all blasting here turned out to be invulnerable. I jump-kicked it just to make sure, though.
Other Heroes
At Whom I Have Gaped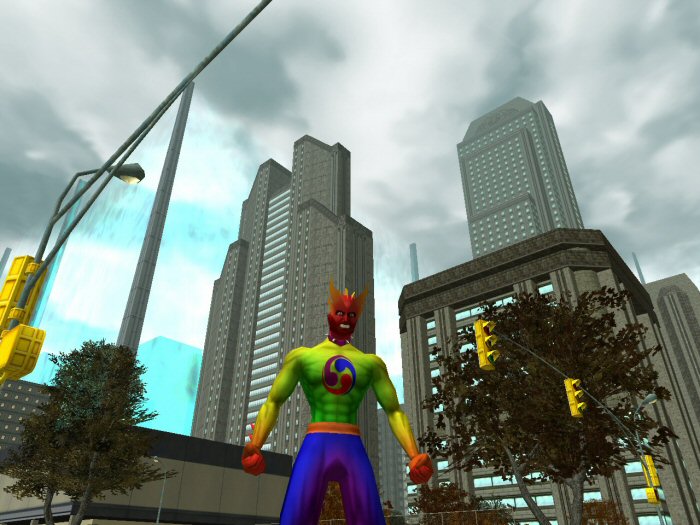 The Painbow, one of my own but not one I've ever really played with. The rainbow blend was 'inspired' by another character you will find among the below.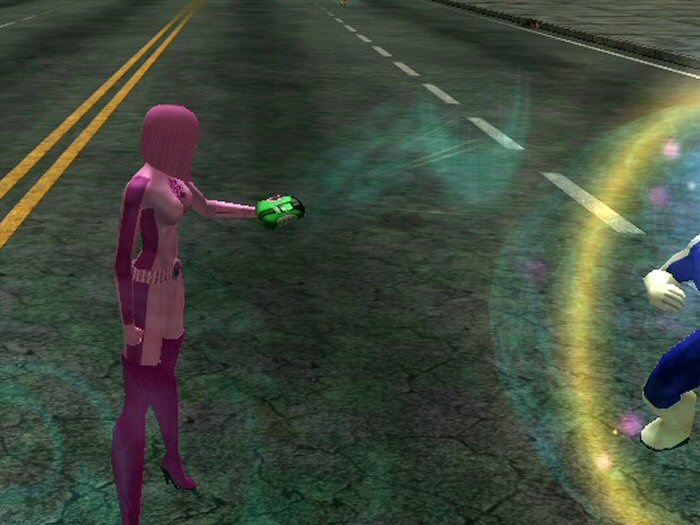 This flying, high-level Defender used her device to heal me and a few others nearby, then took to the air and zipped off, calling over her shoulder - by way of explaination - "Drive-by healer coming through!"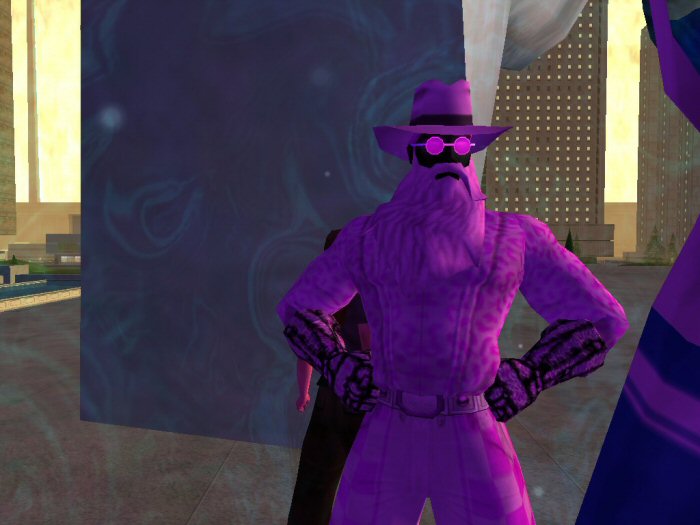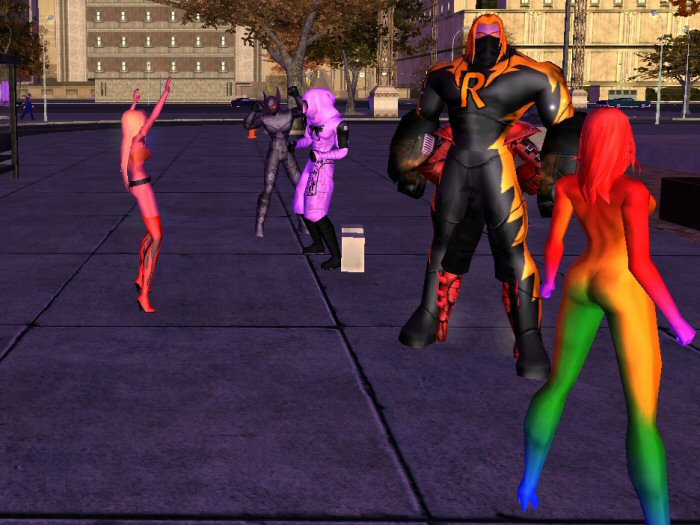 Warhammer 40K: Dawn Of Freaking War

The Dawn Of War demo is out, and it's a hell of a thing. Even the rabid fans on the developer's forums were a bit taken back by our bold 92% score, but now that people are playing a bit of the finished thing rather than the beta, they're all, like, "Wow, PC Gamer were completely right. I'm sorry I ever doubted them. I should learn to have a little respect." Despite being wildly busy on Friday, I played it for an hour and a half at lunchtime and just forgot where I was.

It's so wildly exciting to be in command of realtime Space Marines who move and shoot exactly as you'd always imagined, or to get a unit called a Librarian and know in advance that he's a stone cold bad-ass psyker who will completely fuck people up for you. Actually intimate knowledge of 40K would still lead you to under-estimate a Librarian - they're insanely powerful in this. The basic Smite power will send eight guys flying - flying and dead.

But it's not just that. Dawn Of War left me with a feeling I haven't had since Z (which I rather liked, but I realise you didn't) - it's the feeling that what you just played wasn't Warcraft. I didn't mine a single thing. Nobody said Zug-Zug just now. This is actually different. I don't get that a lot because I don't play stuff like Homeworld or Medieval or the other greats that Al namechecked in his review, because I need Blizzard's spit and polish to find an RTS accessible. The fact that every strategy game I understand is basically the same as Warcraft would be a great thing if it weren't for Blizzard's knack for nailing a whole genre in one deft game. As it is, they all come off as weak clones and Dawn Of War is the first game with Blizzard's level of accessibility, inherent logic and ability to excite that didn't copy them to get it.

I had this idea for an RTS where you don't harvest resources to build stuff, because that's stupid - who builds tanks on the battlefield? No, instead you earn credit with HQ by showing that the fight is winnable, and worth investing resources to win. I was going to call this factor 'Clout', but Dawn Of War calls it 'Requisition' and that's fine too. I know, there are probably a dozen strategy games to do this first, but that doesn't matter to me. None of them let me use Clout to requisition a goddamn Hellfire-Class Dreadnought.

The Dreadnought is a revelation. Yeah, it was powerful in the tabletop game, and the current model has been awesome ever since we got over feeling it was too fat when it first came out. But to see it stomp around, punch Orks thirty feet into the air, Heavy Bolter them in the face while Flaming three others... it's like an angry house that stomps.

The best thing, though - and I say this with the lofty, authoritative air of someone who hasn't played the full game yet - is upgrading individual squads. For an appealingly low Clout cost, a button click and a few seconds you can add any specific heavy weapon to that group, increase their number or give them a Sarge to rally round. Your basic four guys can quickly become an ubersquad of nine bionically enhanced marines with two Missile Launcher carriers, two Flamers, a power-sword-wielding sergeant and a Force Commander on detachment from Over By That Tree. Not only does it allow for mixed-unit tactics that you don't even have to think about because the one controllable entity is, within itself, mixed, but it also encourages you to give a damn. You really make your squads, you don't just churn them out of a factory.

It still feels oddly like a wild dream that a truly great strategy game, a graphically stunning Warhammer 40K game and a next-generation spectacle-based RTS in which people totally go flying could all coincide in one beautiful package. Maybe because it is, still, it's not out yet.

Half-Life Freaking 2

No, I haven't played it, but I've been hearing a lot about it recently and my excitement - already at the stage where I was dreaming about it three nights in a row - is now at fever pitch. Two things keep running through my imaginings of the game: one, the Gravity Gun will be fun. Look at the Ravenholm video - not only can you slice someone in freaking half with a circular goddamn saw blade, but the environments are packed with stuff to fling at people, and a warehouse palette is enough to smash a zombie off this mortal coil once and for all. Two, I read about someone from the by-then-evil PC Zone playing the game a year ago and having a zombie shuffle toward him on the pier we've seen in videos. He shot a plank in front of the zombie and it fell through into the water. Whoa!

Film Round-Up

The Terminal: This was surprisingly like Cast Away - minimalist, tragic, occasionally funny and commendably neglecting to hook the main character up with his love interest in the end. It's also good, though not as good as Cast Away.

Score: It's also good, though not as good as Cast Away.

The Bourne Supremacy: The Bourne Identity was everything to me that Bond tries to be but is not: exciting, action-packed, and starring a likeable secret agent. The sequel is more or less as good, which is brilliant. People with some notion of taste are basically denied non-ironic enjoyment of the whole action genre, and in that cultural climate something that isn't so stupid it makes you want to cry seems like genius. Its best feature that distinguishes beyond Action You Can Watch Even If You Have A Brain is Bourne's improvisational technique - breaking a gas pipe in a hitman's home and putting the magazine with which he killed him in the toaster as he leaves is a hell of a thing.

Score: Not stupid.

Music Round-Up

Clinic - Winchester Cathedral: This hasn't had very good reviews, because it's not a big departure from the last three albums. What the hell? Why would you want a departure from that? That's what they do. It's like wishing Mozart would move on from the classical genre. They're getting better at it, too: The Magician and Thank You (For Living) start with piercing harmonica melodies that knock around your head for days afterwards, then launch into their stompy sound at its absolute best. Vertical Take-Off In Egypt is more exciting and intense than even Hippy Death Suite, and it does it without the clangy volume that occasionally irritated. Even the acronym titles are taken to a new level with WDYYB - whose full title could justifiably be WDYYBYYBMO. If you're bored of this sound you're bored of Clinic, and a half-hearted venture into anything more conventional or avant-garde wouldn't have cured that. Go and listen to a band who can't make the verse "Thank you for living | Thank you for giving | Thank you for being there" sound like a death threat.

Score: Better.

The Delgados - Universal Audio: Somehow I'd assumed they'd stick with the booming orchestral sound they'd started with The Great Eastern and refined on Hate. They haven't - instead, it's a stripped down version of that on some songs, and a more electronic, synth-augmented version of that on the rest. Is This All That I Came For is the first of the latter, and it sets a trend for them being uncharacteristically weird. It actually has a superb and endlessly catchy chorus, but it's such an odd one that at first it seems challenging and abstract. Once you've become accustomed to the sparser, less conventional arrangements of Universal, though, they start to seem warmer and more emotional than Hate or Eastern. Something in the insular, muted quality to the instruments and the slightly freaky harmonies stirs a more powerful response than anything short of Favours from their old stuff. Bits Of Bone is the zenith of the weirdness, the sparseness and the synths, and by this stage they're beyond deciding whether a song's going to be nice or nasty. The gorey title and eerie backing vocals are repeated over brief stretches of warm, positive tunes and gospel handclaps, and the combination is so fantastic that it makes convention look silly for suggesting they shouldn't go together. This is still unmistakably The Delgados, but they're off in their own bizarre world this time, and it's a privelege to hear what they do in there.

Score: Pro Delgado!

A C Newman - The Slow Wonder: A C Newman is the guy from The New Pornographers, who are ace. Unlike Ben Folds, Newman going solo does actually mean a reduction in the number of instruments and the sheer spectacle of the music, but surprisingly his neat lyrics and explosive pop work just as well without. Perhaps even better - The Slow Wonder is full of songs that sound unable to adequately express the energy that surges behind them, and they're all the more addictive for it. The immediate appeal and sonic punch of The New Pornographers is gone, but what replaces it is a tighter, more subtle sound that never ceases to seem fresh and exciting. Don't miss The Town Halo or Miracle Drug, whether you like The New Pornographers or not. Town Halo is out as a single now - the best single by anyone ever, in fact - so there's a legitimate way to try before you buy the album.

Score: Check it out, he totally made it to the Fantastic section of my Media page. Er, 9!