Updated! see bottom of post.
Heat Signature is a game about randomised space ships that you can sneak aboard. These ships have a randomly generated interior of connected rooms and corridors, and crew that patrol those rooms.
Right now, there's no pathfinding: the crew roam randomly. At some point, though, you'll be able to set off alarms or cause other disturbances that the crew should run to. So the problem is: how do find a route to that room? Specifically, how do they find the shortest route to that room?
I could cheat a bit: right now each row of rooms in a ship is always internally connected, and each has just one door to the next row. But I might change that layout logic, and as I've been planning the features for Heat Signature, I've noticed something interesting: a lot of the problems I'll need to solve utlimately boil down to: "Is this module connected to that one?" and "If so, what's the shortest route?"
Crew pathfinding is one. Player pathfinding is another, if I keep the current controls. But also, when a ship is hit by a missile, the module that got hit is destroyed. If you blow up enough modules to cut a ship in half, it ought to break apart. How do we tell when that should happen, and which modules should belong to which half? Well, we need to know "Is this module connected to that one?"
Fourthly, and this is just a pipe dream, but if it's not too hard I would love to have vacuum suck you out into space. So when that module gets destroyed, it takes a second for the doors that were leading to it to seal, and everything would be sucked towards it in that time. To figure out what gets sucked and in which direction, we'd need to know: "Is this module connected to that one?" and "If so, what's the shortest route?"
In programming, you're always hitting challenges other people have already solved. The best policy is to do your research, find out what the best solution out there is, and adapt it to you purposes. But I hate research, and I love figuring things out, so I have a different policy: try to figure it out for yourself. If you can't, or your solution seems insanely hard to implement, then look it up.
So I haven't looked up how you do pathfinding – I'm going to try my own way first. And since it's a big subject and I'm blundering through it in my head, I thought I'd write out the approach I'm going to try before I actually try it, partly to make sure the logic is sound before I do the legwork of implementing it. So here's my plan:
Pathfinding By Induction
In maths, there's a very useful process called induction: if you want to solve a problem for all numbers, start by solving it for '1', then use that result for '2', and so on. Algorithmically finding the shortest route between two distant points in a selectively blocked grid seems daunting to me, so I think I'll start with the case I can solve and work from there. If two modules are connected by a door, I can definitely tell you the shortest route between them.
It would work like this:
Every module is assigned a number, from 1 to however many modules there are on the ship.
We want to give every module two lists: one is how far it is to each other module on the ship, and the other is which way you should head if you're going to that module.
So if the Cockpit is module 1, module 8's lists will hopefully end up including something like:
DistanceTo[1] = 5 modules
NextStepTo[1] = go to Module[7]
But we don't know that yet. So when the ship is created, all these distances are set to a big number (ModuleCount) – no module knows of a good route to any other one yet.
Then we go through the modules one by one.
For each module, we check to see if it has a door to any of its neighbours.
For each of its connected neighbours, we say:
The distance to that neighbouring module from here is 1 (DistanceTo[n] = 1)
To get to this module, just head straight to it (NextStepTo[n] = Module[n])
These ones are easy! But obviously we can't stop there. So we also look at the neighbouring module's list of distances to each other module in the ship, and ask:
Is your best known distance to that module much (2) shorter than ours?
If so, we can find a better route to that module by going through you!
Our distance to that module is now your distance + 1: we take one step to get to you, then use your route (DistanceTo[d] = Module[n].DistanceTo[d] + 1)
So our NextStepTo that module is you (NextStepTo[d] = Module[n])
So that'll get us some routes to modules that aren't our neighbours, but obviously it won't get them all – not on first run. When we run this for the first module in the ship, none of the other modules have routes to anywhere, so it'll only know about its neighbours.
But this process is sound: it'll never replace a good route with a worse one, and each time you run it it'll find efficient routes to more and more distant modules, until all the lists are optimal.
How many times do we have to run it for that?
Well, we can stop running it when the routes aren't changing anymore – if none of them change on one run, they also won't change on the next one, so the process is finished.
Why This Method?
For a single pathfinding operation, this method is probably super inefficient: it involves a lot of nested loops, so the total number of operations it'll do is very high. I'm trying it because:
a) I'm too dumb to see how to optimise it, and
b) it doesn't really matter if it's a bit slow, because it doesn't need to run at all for people to navigate. Every room has a static list that tells everyone where to go next without performing any actual calculations. So you could have thousands of crew and thousands of modules and still spend zero cycles on pathfinding. It only needs to recalculate when the ship physically changes shape, which happens much more rarely.
It's probably still a dumb method and I'm sure many of you will point out problems or better ways of doing it – please do! But I'm interested to give it a go and see how it works. I might even put in some visualisation stuff so I can see it working, and the paths it creates.
Update
It worked! Here's a shot where every room is showing the shortest route to the player from there (click for big):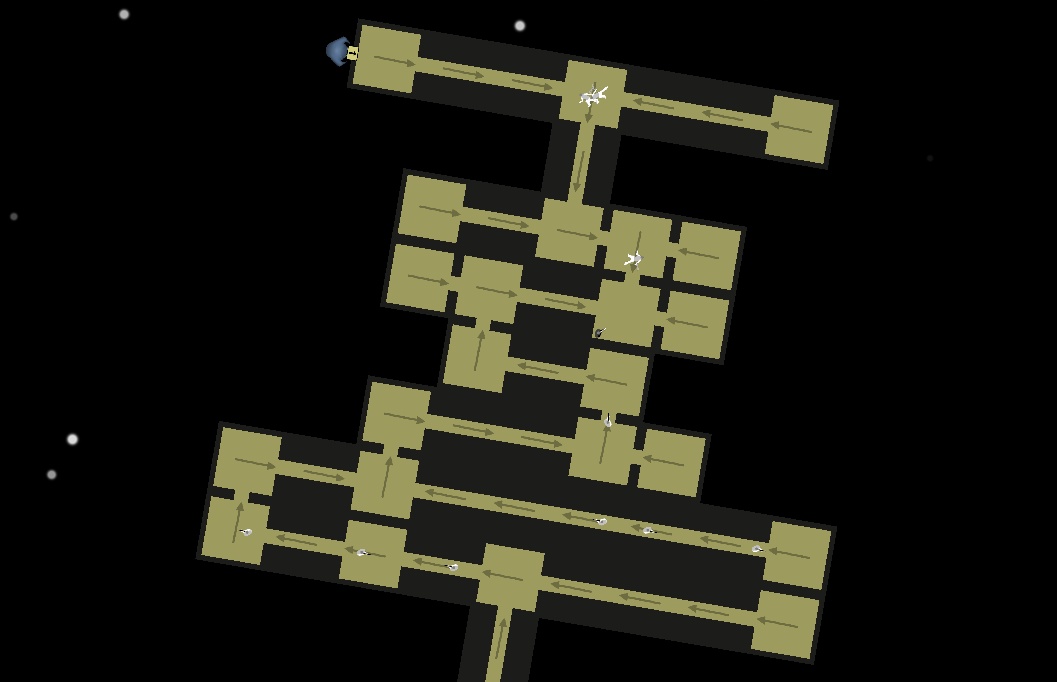 Next step is to check it works when a ship is damaged – maybe I could also make crew run to the point of impact to give it a test run, too. Might do a video once everything's all working together – I've also added heat seeking missiles and infighting between ships since the last one.
More Heat Signature