I like Dishonored quite a lot. Here's my review.
After mentally rejecting three even crazier ideas, I hoist the Overseer's body over my shoulder and jump out of the window.
If you're playing it now, you might want to know what counts as a kill, what the threshold for 'low chaos' is, and whether dogs seeing you mean you're not a ghost. Here's a guide.
The game itself doesn't fully explain how it works. I misunderstood it, and accidentally committed myself to a darker path than I wanted.
If you've finished it, we did a special spoilercast where we discuss the merits and faults of the plot, amongst much else.
You fascinate me, Corvo. You've eaten fifty cans of tuna today Corvo. Why did you do that? How did you do that? How do you eat all the tuna on a shelf almost instantly?
Audio clip: Adobe Flash Player (version 9 or above) is required to play this audio clip. Download the latest version here. You also need to have JavaScript enabled in your browser.
I also wrote an account of the first time I tackled the Lady Boyle mission.
He's wearing a whale the size of a dog on his head. Her mask is a fly, with plate-sized compound eyes. They both stare at me for a moment, then the fly woman says:
'I don't know how you can wear that mask.'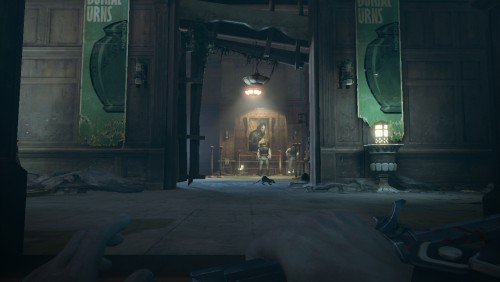 More Dishonored