Edit: This isn't new, just separating it out from this so it can live on the new Gunpoint site.
Gunpoint's at a really exciting stage now – character animation for the player and the basic guard type is done, so the game has a lot of its final 'feel'. And John's just passed over the first set of environment art, along with a mockup showing all of it crammed into one showcase level – a real one would be less busy. And check it the hell out (click):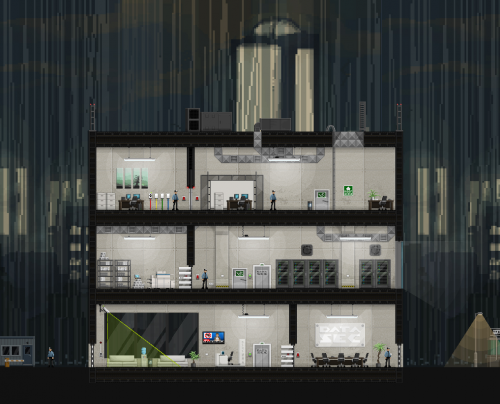 It looks way too good. Now I feel like I've got to make a proper game or something. The background is obviously just a stretched version of Fabian's original at the moment, but the rest just looks done. Which means I'm way behind on the coding side of things.
So by the end of this weekend, I want to have all of Gunpoint's Act One working: that's the first for or five levels, which mostly use this tile set. It's sort of about escape anyway, come to think of it. By the end of them, the player should understand all the basic mechanics and have played around with crosslinking a bit – enough to see the point of it.
It'll also kick off the plot, and resolve the most immediate part of it, but how much of that will work at this stage I don't know. I'll certainly get the actual dialogue in there – so far, writing has been the easy bit.
More Gunpoint