I saw Spiderman 3 yesterday, so here's my review of Invasion of the Body Snatchers. It – unlike Spiderman 3 – is fantastic.
It's the 1978 remake I'm talking about, with Donald Sutherland, Leonard Nimoy and a very young and very excellent Jeff Goldblum. It is a strange concept to me that a movie released before I was born could be a modernisation of something even older (were eyes even invented before then? Mine weren't), but from what little I know of the original, it doesn't seem like a remake the way they do them today. It's darker, truer to its premise and closer to the original novel than the first film version, almost a de-Hollywoodisation by comparison.
Oh, I should probably explain why I'm suddenly talking about an incredibly well-known 1978 classic sci-fi film. Er, it was on TV last night. And I hadn't seen it before, and thought I should, even though I rarely like old films, and I even less often like old films that are considered classics. Classic seems to mean 'no longer any good'. I have some classic cheese in my fridge.
But I was amazed by this, and more importantly horrified by it – I think more so than at the Ring films. The cultural touchstone it spawned was about this idea of everyone going about business as usual, but somehow not being themselves, lacking emotion. That's not very scary. It doesn't get scary until so many humans have been replaced by 'pod people' that the humans are trying to blend in with the pod people rather than vice versa.
People have to pretend to be people pretending to be people. The film is never explicit about how many have changed, partly because the ambiguity is part of the menace, but there is a distinct turning point. Because from that point on, whenever a pod person discovers a human in public, they point at them and scream.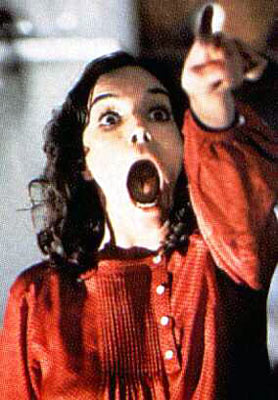 It feeds on two potent psychological tricks that don't get used enough: firstly, that there's nothing more horrifying than something that's absolutely horrified of you. And secondly, the scariest images are also the most absurd – and potentially comic.
I came across an incredibly spoilerific screenshot from the film while digging out the image above (which is not spoilerific – it never happens in the film), which captures the most brilliant, horrible and chilling moment, but just looks hilarious out of context. It's hard to imagine a more modern film daring to do something so easy to mock, but Body Snatchers leads up to it gradually and creepily, so that when you're actually watching it (alone, or with people who can shut the hell up), it's terrifying.
There's also an extraordinary scene where pod people hatch all around Donald Sutherland as he sleeps in a deckchair outside, all born adult but malformed, and they're oddly convincing. They make odd noises as they hatch, but not the bland sci-fi squelching almost every other film involving aliens succumbs to. It's remarkable what a difference that makes – these things were done with puppets thirty years ago, and they're creepier than any CGI I've seen.
Then there's the dog thing. I have no earthly idea what the dog thing is all about. The film is otherwise very consistent, and even corrects some nonsenses of the original. Then there's a dog thing, and it's sudden and unexplained and utterly horrible, but again, probably just funny out of context. I would think if you have seen the film, it would have been a long time ago, so I'd be intrigued to know if anyone remembers the dog thing.